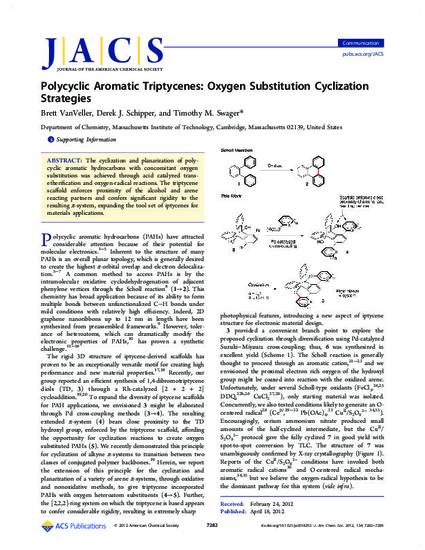 Article
Polycyclic Aromatic Triptycenes: Oxygen Substitution Cyclization Strategies
Journal of the American Chemical Society (2012)
Abstract
The cyclization and planarization of polycyclic aromatic hydrocarbons with concomitant oxygen substitution was achieved through acid catalyzed transetherification and oxygen-radical reactions. The triptycene scaffold enforces proximity of the alcohol and arene reacting partners and confers significant rigidity to the resulting π-system, expanding the tool set of iptycenes for materials applications.
Keywords
Planarization,
Polycyclic aromatics,
Transetherification,
Triptycenes,
oxygen,
polycyclic aromatic hydrocarbons,
reaction kinetics,
scaffolds,
cyclization acid,
phenylenediamine,
triptycene derivative,
catalysis,
chemical structure,
crystal structure,
etherification
Publication Date
April 18, 2012
Citation Information
Brett VanVeller, Derek J. Schipper and Timothy M. Swager. "Polycyclic Aromatic Triptycenes: Oxygen Substitution Cyclization Strategies"
Journal of the American Chemical Society
Vol. 134 Iss. 17 (2012)
Available at: http://works.bepress.com/brett_vanveller/5/