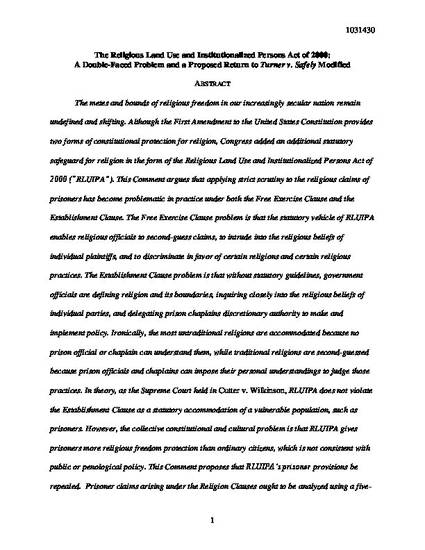 Unpublished Paper
RLUIPA: A Double-Faced Problem and a Proposed Return to Turner v. Safely Modified
ExpressO (2012)
Abstract
The metes and bounds of religious freedom in our increasingly secular nation remain undefined and shifting. Although the First Amendment to the United States Constitution provides two forms of constitutional protection for religion, Congress added an additional statutory safeguard for religion in the form of the Religious Land Use and Institutionalized Persons Act of 2000 ("RLUIPA"). This Comment argues that applying strict scrutiny to the religious claims of prisoners has become problematic in practice under both the Free Exercise Clause and the Establishment Clause. The Free Exercise Clause problem is that the statutory vehicle of RLUIPA enables religious officials to second-guess claims, to intrude into the religious beliefs of individual plaintiffs, and to discriminate in favor of certain religions and certain religious practices. The Establishment Clause problem is that without statutory guidelines, government officials are defining religion and its boundaries, inquiring closely into the religious beliefs of individual parties, and delegating prison chaplains discretionary authority to make and implement policy. Ironically, the most untraditional religions are accommodated because no prison official or chaplain can understand them, while traditional religions are second-guessed because prison officials and chaplains can impose their personal understandings to judge those practices. In theory, as the Supreme Court held in Cutter v. Wilkinson, RLUIPA does not violate the Establishment Clause as a statutory accommodation of a vulnerable population, such as prisoners. However, the collective constitutional and cultural problem is that RLUIPA gives prisoners more religious freedom protection than ordinary citizens, which is not consistent with public or penological policy. This Comment proposes that RLUIPA's prisoner provisions be repealed. Prisoner claims arising under the Religion Clauses ought to be analyzed using a five-factor framework, namely: (1) the sincerity of the claimant; (2) the impact of granting the accommodation on third parties in the prison; (3) the presence of a valid rational connection between the prison regulation and the governmental interest put forth to justify it; (4) public policy; and (5) recognition of the religion outside the prison walls. These factors are intended to guide courts and prison officials so that religious freedom is protected in a manner that is effective and consistent with the Constitution.
Publication Date
March 22, 2012
Citation Information
Brett J Fleisher. "RLUIPA: A Double-Faced Problem and a Proposed Return to Turner v. Safely Modified"
ExpressO
(2012)
Available at: http://works.bepress.com/brett_fleisher/1/