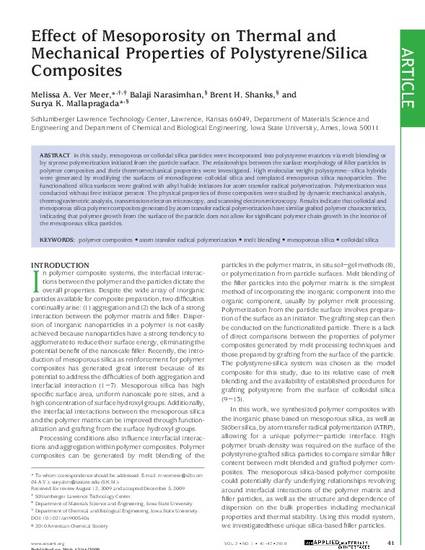 Article
Effect of mesoporosity on thermal and mechanical properties of polystyrene/silica composites
ACS Applied Materials and Interfaces
Publication Date
1-1-2010
Abstract
In this study, mesoporous or colloidal silica particles were incorporated into polystyrene matrices via melt blending or by styrene polymerization initiated from the particle surface. The relationships between the surface morphology of filler particles in polymer composites and their thermomechanical properties were investigated. High molecular weight polystyrene-silica hybrids were generated by modifying the surfaces of monodisperse colloidal silica and templated mesoporous silica nanoparticles. The functionalized silica surfaces were grafted with alkyl halide initiators for atom transfer radical polymerization. Polymerization was conducted without free initiator present. The physical properties of these composites were studied by dynamic mechanical analysis, thermogravimetric analysis, transmission electron microscopy, and scanning electron microscopy. Results indicate that colloidal and mesoporous silica polymer composites generated by atom transfer radical polymerization have similar grafted polymer characteristics, indicating that polymer growth from the surface of the particle does not allow for significant polymer chain growth in the interior of the mesoporous silica particles.
Copyright Owner
American Chemical Society
File Format
application/pdf
Citation Information
Melissa A. Ver Meer, Balaji Narasimhan, Brent H. Shanks and Surya K. Mallapragada. "Effect of mesoporosity on thermal and mechanical properties of polystyrene/silica composites"
ACS Applied Materials and Interfaces
Vol. 2 Iss. 1 (2010) p. 41 - 47
Available at: http://works.bepress.com/brent_shanks/1/