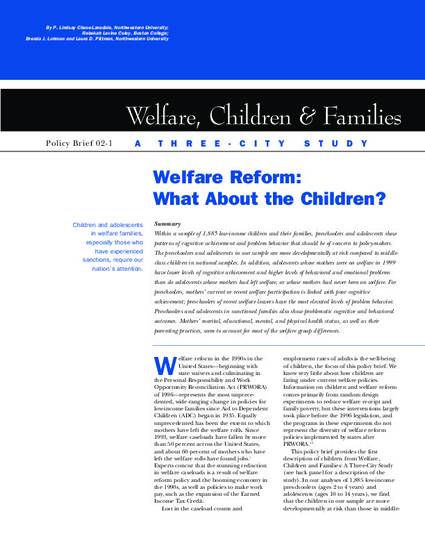 Article
Welfare Reform: What About the Children?
Welfare, Children & Families (2002)
Abstract
Within a sample of 1,885 low-income children and their families, preschoolers and adolescents show patterns of cognitive achievement and problem behavior that should be of concern to policy-makers. The preschoolers and adolescents in our sample are more developmentally at risk compared to middleclass children in national samples. In addition, adolescents whose mothers were on welfare in 1999 have lower levels of cognitive achievement and higher levels of behavioral and emotional problems than do adolescents whose mothers had left welfare, or whose mothers had never been on welfare. For preschoolers, mothers' current or recent welfare participation is linked with poor cognitive achievement; preschoolers of recent welfare leavers have the most elevated levels of problem behavior. Preschoolers and adolescents in sanctioned families also show problematic cognitive and behavioral outcomes. Mothers' marital, educational, mental, and physical health status, as well as their parenting practices, seem to account for most of the welfare group differences.
Keywords
welfare,
preschoolers,
adolescents,
cognitive achievement,
problem behavior
Citation Information
Brenda J Lohman, P. Lindsay Chase-Lansdale, Rebekah Levine Coley and Laura D. Pittman. "Welfare Reform: What About the Children?"
Welfare, Children & Families
Iss. Policy Brief 02-1 (2002)
Available at: http://works.bepress.com/brenda_lohman/3/