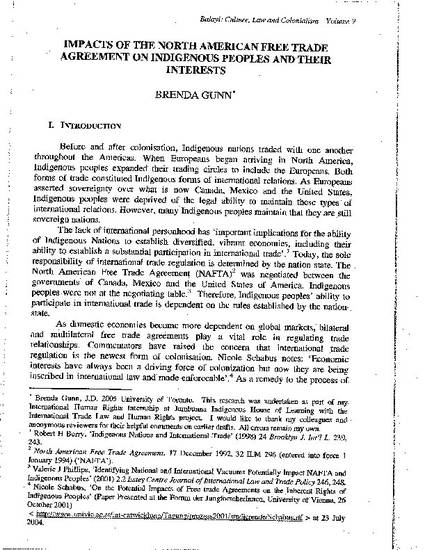 Article
Impacts of The North American Free Trade Agreement on Indigenous Peoples and Their Interests
Balayi: Culture, Law and Colonialism (2006)
Abstract
This article argues that while trade liberalization has the potential to have positive economic effects upon Indigenous peoples, NAFTA does not adequately take into account and protect Indigenous peoples concerns and interests. While the purpose of international trade regulation is to remove trade barriers and ensure a level playing field, current trade regimes do impact Indigenous peoples' rights and interests. Therefore the interaction of international trade and Indigenous peoples' rights merits consideration. The article begins with a brief introduction to NAFTA and describes some of the provisions contained therein. Next, the article looks at the threes governments' views about NAFTA when it was first enacted and over subsequent years. This discussion is followed by a review of Indigenous peoples' varied responses to NAFTA. The article ends with an in-depth analysis of Annex II, Chapter Eleven on investment, and the environmental side agreement.
Keywords
international trade,
indigenous rights,
NAFTA
Citation Information
Brenda L. Gunn. "Impacts of The North American Free Trade Agreement on Indigenous Peoples and Their Interests"
Balayi: Culture, Law and Colonialism
Vol. 9 (2006)
Available at: http://works.bepress.com/brenda_gunn/3/