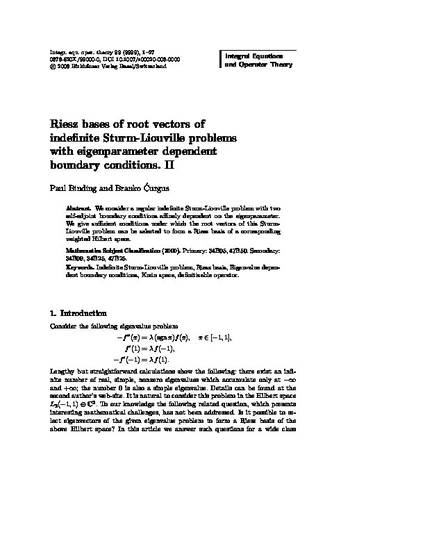 Article
Riesz Bases of Root Vectors of Indefinite Sturm-Liouville Problems with Eigenparameter Dependent Boundary Conditions. II
Integral Equations and Operator Theory
Publication Date
4-1-2009
Abstract
We consider a regular indefinite Sturm-Liouville problem with two self-adjoint boundary conditions affinely dependent on the eigenparameter. We give sufficient conditions under which the root vectors of this Sturm-Liouville problem can be selected to form a Riesz basis of a corresponding weighted Hilbert space.
Citation Information
Paul Binding and Branko Ćurgus. "Riesz Bases of Root Vectors of Indefinite Sturm-Liouville Problems with Eigenparameter Dependent Boundary Conditions. II"
Integral Equations and Operator Theory
Vol. 63 Iss. 4 (2009) p. 473 - 499
Available at: http://works.bepress.com/branko_curgus/16/