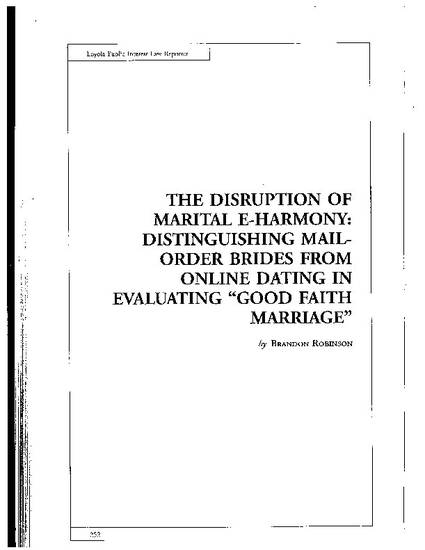 Article
The Disruption of Marital eHarmony: Distinguishing Mail-Order Brides From Online Dating in Evaluating "Good Faith Marriage"
Public Interest Law Reporter (2008)
Abstract
ABSTRACT In today's society, more and more people are turning to the information superhighway to find love. No longer confined to the girl or boy "next door," many of today's single men and women can connect with potential soul mates across the globe with the simple click of a button, symbolizing yet another consequence of a world community that is quickly becoming smaller and more interconnected. Once an international "match" has been made, the U.S. citizen can begin the complicated process of bringing his newfound loved one to the States. The IMO industry has a much more sinister underbelly, however, as IMOs not only facilitate sex trafficking, prostitution, and domestic abuse, but also allow immigration laws to be exploited by both immigrants and citizen/residents alike in order to commit immigration fraud. The immigration official attempting to adjudicate whether a couple has entered into a marriage in "good faith" faces a difficult task. Aided by an application that often lacks documentary evidence (often through no fault of the petitioner's), the official must divine the intentions of an Internet bride upon entering into her marriage. How can one distinguish a legitimate online dating site, such as a Match.com, from a nefarious website masking as an IMO? Even if the website appears perfectly legitimate, how can the immigration official distinguish between an innocent Internet bride who used the site to find "Mr. Right" only to discover she had made a tragic mistake, from an Internet bride with fraudulent intentions who exploited the exact same site? This Essay examines the available factors and considerations used by immigration officials in determining good faith marriages, and suggests additional factors that may help to solidify this increasingly important distinction. A clearer understanding of both existing and potential considerations with respect to Internet dating will enable "innocent" abused Internet brides to overcome existing prejudice against such courtships, and will also aid immigration officials in their discretion to more accurately determine "good faith marriage" when faced with limited information.
Keywords
marital,
online matchmaking,
administrative law,
immigration,
Internet,
human trafficking,
domestic violence,
VAWA,
IMO,
IMBRA,
matchmaking,
marriage fraud,
"good faith",
"K visa",
regulation,
marriage,
fraudulent,
"Internet bride",
mail-order bride,
mail order bride
Publication Date
Summer 2008
Citation Information
Brandon N. Robinson. "The Disruption of Marital eHarmony: Distinguishing Mail-Order Brides From Online Dating in Evaluating "Good Faith Marriage""
13 Public Interest Law Reporter, Issue 3, 252-270 (Summer 2008).