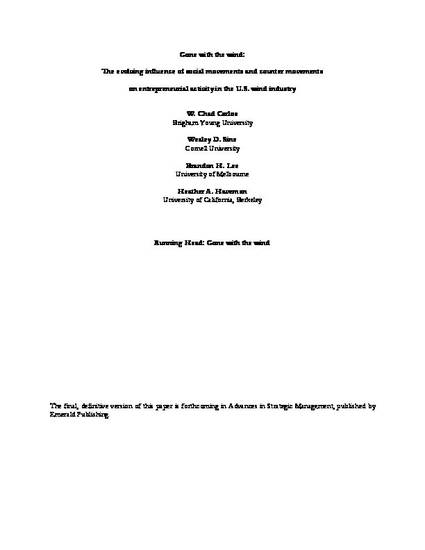 Unpublished Paper
Gone with the wind: The evolving influence of social movements and counter movements on entrepreneurial activity in the U.S. wind industry
Advances in Strategic Management (Forthcoming) (2018)
Abstract
Social movements can disrupt existing industries and inspire the emergence of new markets by drawing attention to problems with the status quo and promoting alternatives. We examine how the influence of social movements on entrepreneurial activity evolves as the markets they foster mature. Theoretically, we argue that the success of social movements in furthering market expansion leads to three related outcomes. First, the movement-encouraged development of market infrastructure reduces the need for continued social movement support. Second, social movements' efforts on behalf of new markets increase the importance of resource availability for market entry. Third, market growth motivates countermovements that reduce the beneficial impact of initiator movements on entrepreneurial activity. We test these arguments by analyzing evolving social movement dynamics and entrepreneurial activity in the US wind power industry from 1992 to 2007. We discuss the implications of our findings for the study of social movements, stakeholder management, sustainability, and entrepreneurship.
Citation Information
Chad Carlos, Wesley Sine, Brandon Lee and Heather Haveman. "Gone with the wind: The evolving influence of social movements and counter movements on entrepreneurial activity in the U.S. wind industry"
Advances in Strategic Management (Forthcoming)
(2018)
Available at: http://works.bepress.com/brandon_lee/6/