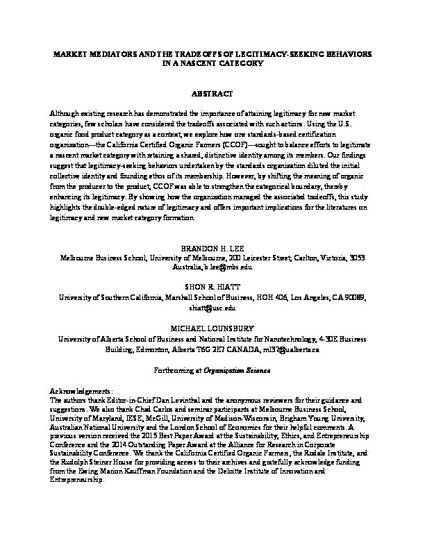 Article
Market Mediators and the Tradeoffs of Legitimacy-Seeking Behaviors in a Nascent Category
Organization Science (2017)
Abstract
Although existing research has demonstrated the importance of attaining legitimacy for new market categories, few scholars have considered the tradeoffs associated with such actions. Using the U.S. organic food product category as a context, we explore how one standards-based certification organization—the California Certified Organic Farmers (CCOF)—sought to balance efforts to legitimate a nascent market category with retaining a shared, distinctive identity among its members. Our findings suggest that legitimacy-seeking behaviors undertaken by the standards organization diluted the initial collective identity and founding ethos of its membership. However, by shifting the meaning of organic from the producer to the product, CCOF was able to strengthen the categorical boundary, thereby enhancing its legitimacy. By showing how the organization managed the associated tradeoffs, this study highlights the double-edged nature of legitimacy and offers important implications for the literatures on legitimacy and new market category formation.
Keywords
Category Emergence,
Legitimacy,
Market intermediary,
Collective Identity,
Collective action
DOI
https://doi.org/10.1287/orsc.2017.1126
Citation Information
Brandon Lee, Shon Hiatt and Michael Lounsbury. "Market Mediators and the Tradeoffs of Legitimacy-Seeking Behaviors in a Nascent Category"
Organization Science
(2017)
Available at: http://works.bepress.com/brandon_lee/5/