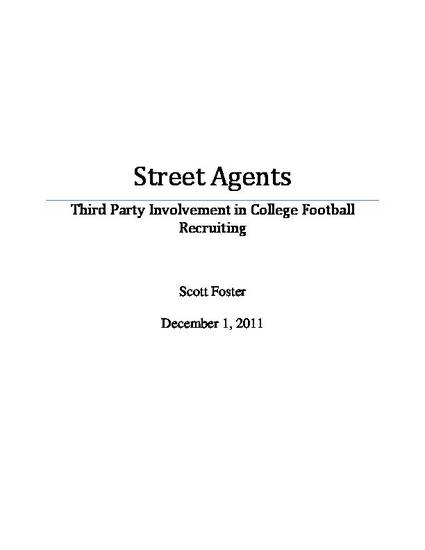 Unpublished Paper
Street Agents: Third Party Involvement in College Football Recruiting
(2011)
Abstract
In the ever changing landscape of college football recruiting, third parties, otherwise known as "Street Agents," have become an emerging problem for college football coaches in their recruitment of prospective collegiate student-athletes. This is evidenced by the recent NCAA issues at the University of Oregon and Willie Lyles revolving around the recruitment of student-athletes during 7-on-7 summer football camps. In essence, high school football coaches are being surgically removed from the recruiting atmosphere because these third parties are developing the necessary relationships with the student-athletes and are able to direct them to the school of their choice because they host these events.
In the past, this problem has been more prevalent and addressed in the AAU summer basketball camp context where college basketball coaches must rely on these third parties. To better deal with this emerging problem, this article seeks to examine the recent phenomenon of 7-on-7 recruitment, discuss the relevant NCAA regulations involving these events, propose amendments to NCAA regulations and Congressional legislation, while addressing whether high school athletic associations are better suited to deal with this problem.
Additionally, I feel this article is necessary because of the recent phenomenon of national exposure to high school football recruitment, which is legitimized by media outlets, such as ESPNU, who televise these events and dedicate entire episodes of programming to collegiate football recruitment. While writing this article, I was only able to locate a few legal sources to act as a guide and there was not any legal scholarship on this specific topic. Therefore, I feel this article tackles an issue that many in the legal community have either chosen to ignore or fail to recognize.
Citation Information
Brandon S Foster. "Street Agents: Third Party Involvement in College Football Recruiting" (2011)
Available at: http://works.bepress.com/brandon_foster/4/