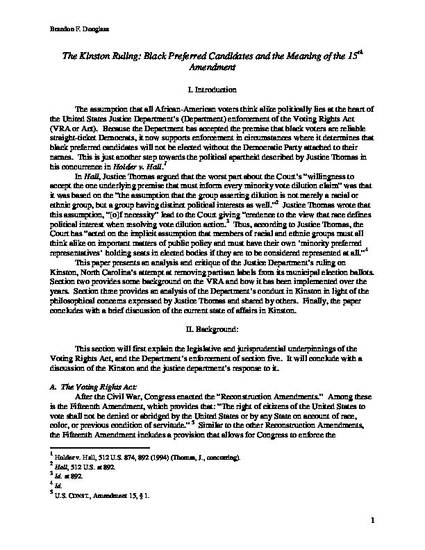 Unpublished Paper
The Kinston Ruling: Black Preferred Candidates and the Meaning of the 15th Amendment
ExpressO (2010)
Abstract
Since the 1960s, section five of the Voting Rights Act requires covered jurisdictions to seek preclearance before making certain changes to their political structure. Recently, the United States Department of Justice ruled that Kinston, North Carolina's attempt at removing partisan labels from its ballots for municipal posts violated section five of the Voting Rights Act, based on the premise that absent a partisan cue, Kinston's African-American voters will not be able to elect their candidate of choice. This paper presents a summary of the preclearance process and an analysis of the Department's ruling regarding Kinston's attempt at removing the partisan cue from its municipal ballots.
Keywords
Preclearence,
Voting Rights Act,
Fifteenth Amendment
Publication Date
October 20, 2010
Citation Information
Brandon F Douglass. "The Kinston Ruling: Black Preferred Candidates and the Meaning of the 15th Amendment"
ExpressO
(2010)
Available at: http://works.bepress.com/brandon_douglass/3/