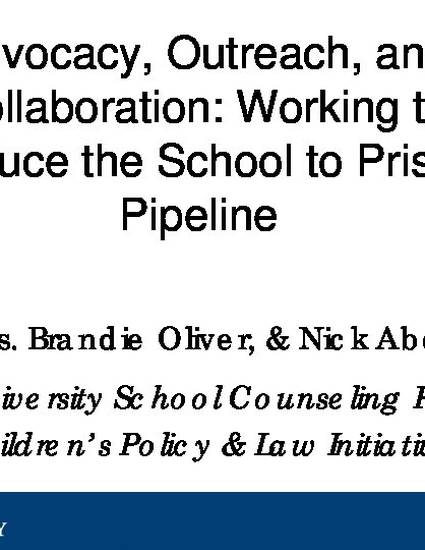 Presentation
Advocacy, outreach, and collaboration: Working to Reduce the School to Prison Pipeline
Advocacy, outreach, and collaboration: Working to reduce the school to prison pipeline
Document Type
Presentation
Publication Date
1-1-2014
Additional Publication URL
http://csmh.umaryland.edu/index.html
Abstract
Learning session co-conducted at the annual conference of the Center for School Mental Health, Pittsburgh, PA. 2014, September.
Rights
This is an electronic copy of conference slides. Archived with permission. The author(s) reserves all rights.
Citation Information
Brandie M. Oliver and Nick R. Abel. "Advocacy, outreach, and collaboration: Working to Reduce the School to Prison Pipeline"
Advocacy, outreach, and collaboration: Working to reduce the school to prison pipeline
(2014)
Available at: http://works.bepress.com/brandie_oliver/5/