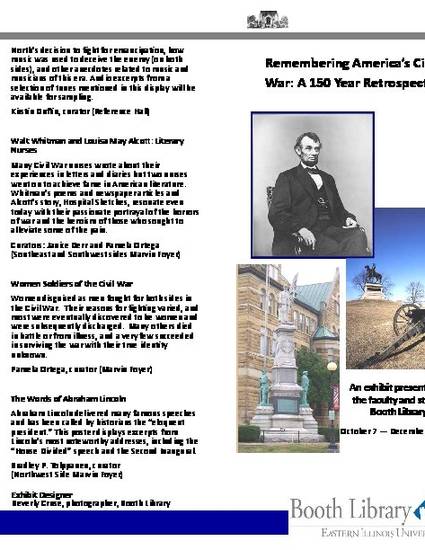 Article
Program Booklet
2011 - Remembering America's Civil War: A 150 Year Retrospective
Creative Commons License
Creative Commons Attribution-Noncommercial-No Derivative Works 3.0
Publication Date
1-1-2011
Abstract
Created to commemorate the 150th anniversary of the start of the United States Civil War, this exhibit studies the political, military, and social aspects of the conflict. Exhibits cover such wide-ranging topics as women soldiers, children and the war, Civil War journalism, literature and nursing, Civil War music, African American soldiers and sailors, the Civil War diary of Lyman Chittenden, and Civil War technology. The Coles County and the Civil War exhibit covers Coles County soldiers, the Charleston Riot, and Abraham Lincoln's relationship with Coles County. This exhibit has been created by the librarians and staff of Booth Library.
Citation Information
Booth Library. (2011). Remembering America's Civil War: A 150 year retrospective. Eastern Illinois University: Charleston, IL.