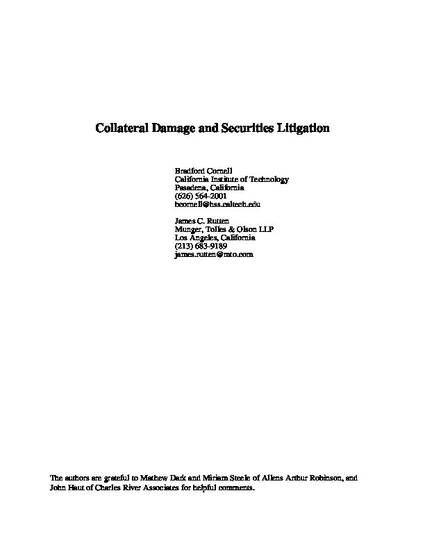 Unpublished Paper
Collateral Damage and Securities Litigation
ExpressO (2009)
Abstract
Damages arise in securities cases when misstatements or omissions inflate the price of a security above its true value. Investors who buy the securities at these inflated prices are damaged when subsequent revelation of the misstatements or omissions causes the price of the securities to return to their fair value. But what if the subsequent revelation causes the price to fall much more than the original inflation? For example, with respect to stock option backdating, economic research indicates that failure properly to account for employee options does little to inflate security prices, but in numerous instances the subsequent revelation of option backdating led to significant stock price declines. The term coined for the decline in excess of the original inflation is "collateral damage." Here we examine collateral damage from both an economic and legal perspective. We conclude that while collateral damage can have a material impact on securities prices, declines associated with collateral damage are not, and should not be, recoverable under § 10(b) of the Securities Exchange Act of 1934.
Publication Date
January 4, 2009
Citation Information
Bradford Cornell. "Collateral Damage and Securities Litigation"
ExpressO
(2009)
Available at: http://works.bepress.com/bradford_cornell/1/