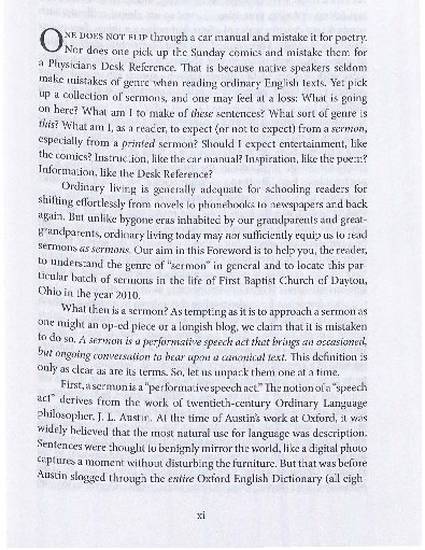 Article
Foreword to 'Sermons from Mind and Heart: Struggling to Preach Theologically'
Sermons from Mind and Heart: Struggling to Preach Theologically
Document Type
Book Chapter
Publication Date
1-1-2011
Abstract
One does not flip through a car manual and mistake it for poetry. Nor does one pick up the Sunday comics and mistake them for a Physicians' Desk Reference. That is because native speakers seldom make mistakes of genre when reading ordinary English texts. Yet pick up a collection of sermons, and one may feel at a loss: What is going on here? What am I to make of these sentences? What sort of genre is this? What am I, as a reader, to expect (or not to expect) from a sermon, especially from a printed sermon? Should I expect entertainment, like the comics? Instruction, like the car manual? Inspiration, like the poem? Information, like the Desk Reference? Ordinary living is generally adequate for schooling readers for shifting effortlessly from novels to phone books to newspapers and back again. But unlike bygone eras inhabited by our grandparents and great-grandparents, ordinary living today may not sufficiently equip us to read sermons as sermons. Our aim in this foreword is to help you, the reader, to understand the genre of "sermon" in general and to locate this particular batch of sermons in the life of First Baptist Church of Dayton, Ohio, in the year 2010. What, then, is a sermon? As tempting as it is to approach a sermon as one might an op-ed piece or a longish blog, we claim that it is mistaken to do so. A sermon is a performative speech act that brings an occasioned but ongoing conversation to bear upon a canonical text. This definition is only as clear as are its terms. So in this essay, let us unpack them one at a time.
ISBN/ISSN
978-1-61097-263-5
Document Version
Published Version
Copyright
Copyright © 2011, Rodney Wallace Kennedy.
Publisher
Wipf and Stock Publishers
Place of Publication
Eugene, OR
Citation Information
Brad Kallenberg and William Vance Trollinger. "Foreword to 'Sermons from Mind and Heart: Struggling to Preach Theologically'"
Sermons from Mind and Heart: Struggling to Preach Theologically
(2011)
Available at: http://works.bepress.com/brad_kallenberg/35/