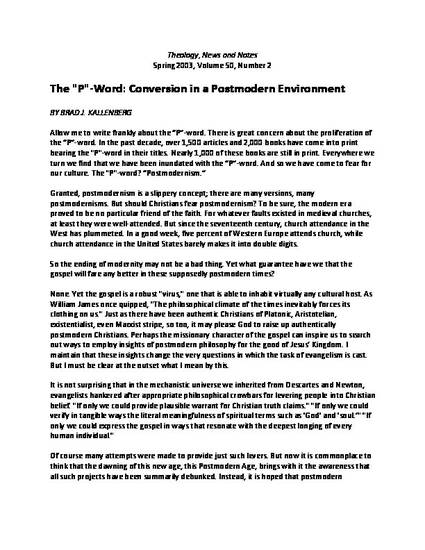 Article
The 'P'-Word: Conversion in a Postmodern Environment
Theology, News and Notes
Publication Date
1-1-2003
Abstract
Allow me to write frankly about the "P"-word. There is great concern about the proliferation of the "P"-word. In the past decade, over 1,500 articles and 2,000 books have come into print bearing the "P"-word in their titles. Nearly 1,000 of these books are still in print. Everywhere we turn we find that we have been inundated with the "P"-word. And so we have come to fear for our culture. The "P"-word? "Postmodernism."
Granted, postmodernism is a slippery concept; there are many versions, many postmodernisms. But should Christians fear postmodernism? To be sure, the modern era proved to be no particular friend of the faith. For whatever faults existed in medieval churches, at least they were well-attended. But since the seventeenth century, church attendance in the West has plummeted. In a good week, five percent of Western Europe attends church, while church attendance in the United States barely makes it into double digits.
So the ending of modernity may not be a bad thing. Yet what guarantee have we that the gospel will fare any better in these supposedly postmodern times?
Document Version
Published Version
Copyright
Copyright © 2003, Fuller Theological Seminary.
Publisher
Fuller Theological Seminary
Place of Publication
Pasadena, CA
Citation Information
Brad Kallenberg. "The 'P'-Word: Conversion in a Postmodern Environment"
Theology, News and Notes
Vol. 50 Iss. 2 (2003)
Available at: http://works.bepress.com/brad_kallenberg/15/