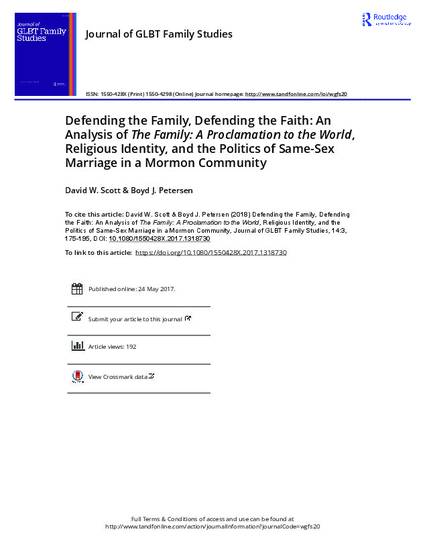 Article
Defending the Family Defending the Faith An Analysis of The Family A Proclamation to the World Religious Identity and the Politics of Same Sex (1).pdf
Journal of GLBT Family Studies (2018)
Abstract
In this article, we apply Peter Berger's theory of religion as a social construct to learn how The Church of Jesus Christ of Latter-day Saints (the Mormon Church) advances a heteronormative view of family relationships in the United States using a document titled The Family: A Proclamation to the World. Furthermore, applying cultural studies theory, we examine how believing Mormons negotiate the tension that arises when their secular values compete with those expressed by Church leaders. We argue that, although the Proclamation addresses a number of issues, the Church offers a closed text that emphasizes war narratives in which same-sex marriage is portrayed as a threat to LDS identity and the heteronormative family. This closed text is further legitimized by emphasis on the authority of Church leaders as oracles of God. The study participants largely accept the dominant narrative, and those who reject it, do so with some trepidation.
Keywords
Mormon,
religion,
civil rights,
encoding/decoding model,
social construction
DOI
https://doi.org/10.1080/1550428X.2017.1318730
Citation Information
Boyd J Petersen. "Defending the Family Defending the Faith An Analysis of The Family A Proclamation to the World Religious Identity and the Politics of Same Sex (1).pdf"
Journal of GLBT Family Studies
Vol. 14 Iss. 3 (2018) p. 175 - 195
Available at: http://works.bepress.com/boyd_petersen/14/