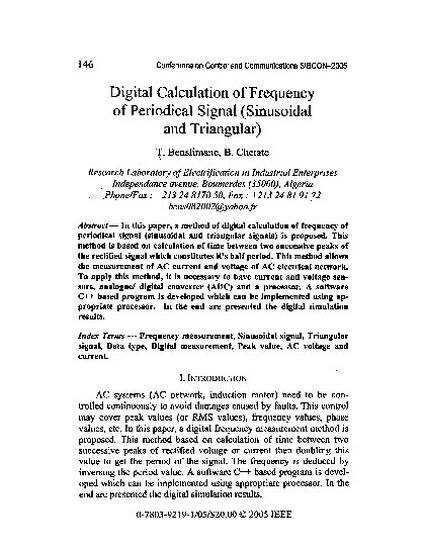 Article
Digital Calculation of Frequency of Periodical Signal (Sinusoidal and Triangular
IEEE Explore (2005)
Abstract
– In This paper, a method of digital calculation of frequency of periodical signal (sinusoidal, triangular and square signals) is proposed. This method is based on calculation of time between two successive peaks of the rectified signal which constitutes it's half period. This method allows the measurement of AC current and voltage of AC electrical network. To apply this method, it is necessary to have current and voltage sensors, analogue/ digital converter (ADC) and a processor. A software C++ based program is developed which can be implemented using appropriate processor. In the end are presented the digital simulation results.
Keywords
Frequency measurement,
Sinusoidal signal,
Triangular signal,
Square signal,
Data type,
Digital measurement,
Peak value,
AC voltage and current
Publication Date
May, 2005
Citation Information
Tarak Benslimane and Boukhemis Chetate. "Digital Calculation of Frequency of Periodical Signal (Sinusoidal and Triangular"
IEEE Explore
Vol. IEEE CNF 0-7803-9219-1/05/2005 Iss. IEEE CNF 0-7803-9219-1/05/2005 (2005)
Available at: http://works.bepress.com/boukhemis_chetate/17/