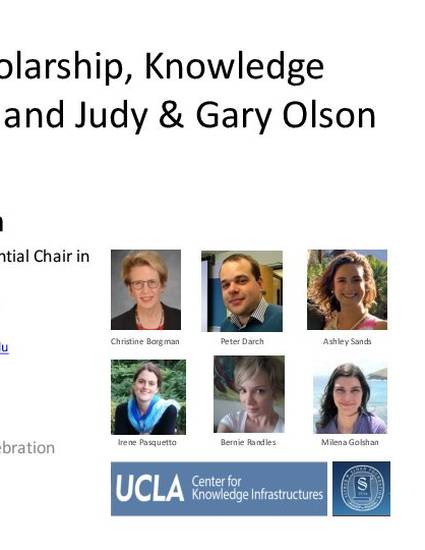 Presentation
Science, Scholarship, Knowledge Infrastructures, and Judy and Gary Olson
Gary & Judy Olson's Retirement Celebration (2017)
Abstract
A celebration of the many contributions Judy and Gary have made to the Department of Informatics, UCI, and the research community at large.
Gary and Judy Olson's Retirement Celebration
Date: 11am-4:30pm, May 31, 2017
Location: Arnold and Mabel Beckman Center
100 Academy, Irvine, CA 92617   
Publication Date
Summer May 29, 2017
Location
University of California, Irvine
Citation Information
Christine L Borgman. "Science, Scholarship, Knowledge Infrastructures, and Judy and Gary Olson"
Gary & Judy Olson's Retirement Celebration
(2017)
Available at: http://works.bepress.com/borgman/407/