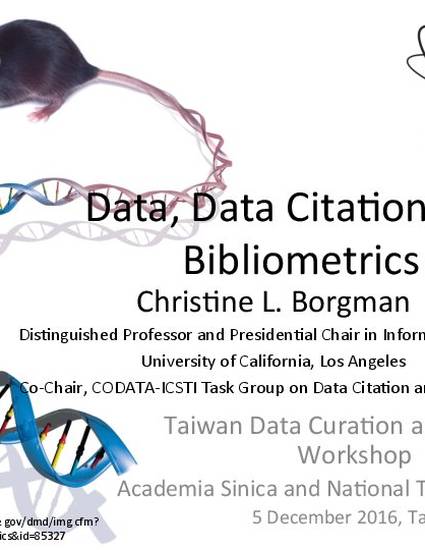 Presentation
Data, Data Citation, and Bibliometrics
Taiwan Data Curation and Citation Workshop/Academia Sinica and National Taiwan University (2016)
Abstract
As scientific data grow in volume, velocity, and variety, they become ever more difficult to manage – whether by individual researchers, teams, libraries, archives, or repositories. Concurrently, researchers are asked to release and to share their data with the wider scientific community and with the public. "Data citation" frequently is viewed as a mechanism to provide credit to those who share data, to attribute data to appropriate sources, and to improve discovery and access. This wide array of objectives suggests that data citation is not a single mechanism but an amalgam of methods, goals, and practices. Data citation is making the transition from theory to implementation, posing new challenges for researchers, librarians, publishers, funding agencies, repositories, and other stakeholders. Among the complexities to consider are distinguishing between credit, attribution, and discovery; the diversity of data practices within and between scientific domains; and the origins of data citation in bibliometrics. The talk is drawn from the work of the CODATA-ICSTI Task Force on Data Citation and Attribution and from the presenter's recent book, Big Data, Little Data, No Data: Scholarship in the Networked World (MIT Press, 2015).
Publication Date
Winter December 5, 2016
Location
National Taiwan University Library
Citation Information
Christine L. Borgman. "Data, Data Citation, and Bibliometrics"
Taiwan Data Curation and Citation Workshop/Academia Sinica and National Taiwan University
(2016)
Available at: http://works.bepress.com/borgman/398/