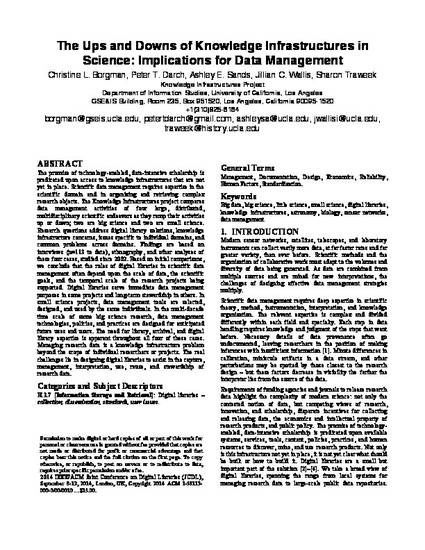 Article
The Ups and Downs of Knowledge Infrastructures in Science: Implications for Data Management
Proceedings of the Joint Conference on Digital Libraries, 2014 (DL2014) (2014)
Abstract
The promise of technology-enabled, data-intensive scholarship is predicated upon access to knowledge infrastructures that are not yet in place. Scientific data management requires expertise in the scientific domain and in organizing and retrieving complex research objects. The Knowledge Infrastructures project compares data management activities of four large, distributed, multidisciplinary scientific endeavors as they ramp their activities up or down; two are big science and two are small science. Research questions address digital library solutions, knowledge infrastructure concerns, issues specific to individual domains, and common problems across domains. Findings are based on interviews (n=113 to date), ethnography, and other analyses of these four cases, studied since 2002. Based on initial comparisons, we conclude that the roles of digital libraries in scientific data management often depend upon the scale of data, the scientific goals, and the temporal scale of the research projects being supported. Digital libraries serve immediate data management purposes in some projects and long-term stewardship in others. In small science projects, data management tools are selected, designed, and used by the same individuals. In the multi-decade time scale of some big science research, data management technologies, policies, and practices are designed for anticipated future uses and users. The need for library, archival, and digital library expertise is apparent throughout all four of these cases. Managing research data is a knowledge infrastructure problem beyond the scope of individual researchers or projects. The real challenges lie in designing digital libraries to assist in the capture, management, interpretation, use, reuse, and stewardship of research data.
Keywords
Big data,
big science,
little science,
small science,
digital libraries,
knowledge infrastructures,
astronomy,
biology,
sensor networks,
data management
Publication Date
September, 2014
Citation Information
Christine L Borgman, Peter T Darch, Ashley E Sands, Jillian C Wallis, et al.. "The Ups and Downs of Knowledge Infrastructures in Science: Implications for Data Management"
Proceedings of the Joint Conference on Digital Libraries, 2014 (DL2014)
(2014)
Available at: http://works.bepress.com/borgman/321/