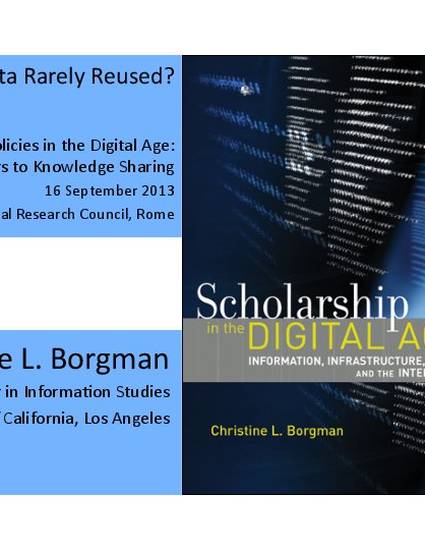 Presentation
Why Are Scientific Data Rarely Reused? (Keynote)
Information Policies in Science International Seminar, Consiglio Nazionale delle Ricerche (2013)
Abstract
Knowledge sharing in science includes sharing research data. While the supply of scientific data is growing rapidly, demand exists in only a few research communities. The mismatch is not simply a matter of price point or of the efficiency of markets. Rather, it appears to be due to matters of trust, application, and practices. When collecting one's own data, a researcher knows the origins, transformations, analyses, assumptions, strengths, and limitations of those data. Also known are the conditions of access to those data and their likely longevity. None of these factors may be known about data acquired from other parties. To reuse data, alone or in combination with other sources, enough must be known about them to trust their veracity as evidence for the arguments a researcher is making. Scientists tend to collect their own data in support of their primary research questions, but may use external data as background information to calibrate or compare their findings. The talk will explore issues of scientific data reuse and their implications for science policy.
Program: http://www.culturaitalia.it/opencms/export/sites/culturaitalia/attachments/IPS3-programme.pdf
Keywords
data reuse,
information policies,
knowledge sharing
Publication Date
September 16, 2013
Citation Information
Christine L Borgman. "Why Are Scientific Data Rarely Reused? (Keynote)"
Information Policies in Science International Seminar, Consiglio Nazionale delle Ricerche
(2013)
Available at: http://works.bepress.com/borgman/272/