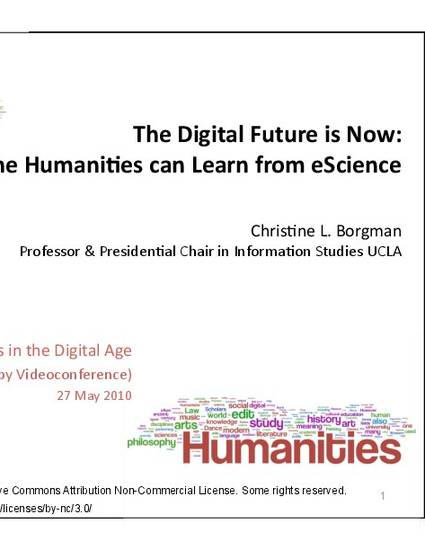 Presentation
The Digital Future is Now: What the Humanities can Learn from eScience
Libraries in the Digital Age (2010)
Abstract
As the digital humanities mature, their scholarship is taking on many characteristics of the sciences, becoming more data-intensive, information-intensive, distributed, multi-disciplinary, and collaborative. While few scholars in the humanities or arts would wish to be characterized as emulating scientists, they do envy the comparatively rich technical and resource infrastructure of the sciences. The interests of all scholars in the university align with respect to access to data, library resources, and computing infrastructure. However, the scholarly interests of the sciences and humanities diverge regarding research practices, sources of evidence, and degrees of control over those sources. This talk will explore the common and competing interests of disciplines for scholarship in the digital age, concluding with a call to action for the humanities.
Keywords
eScience,
humanities,
cyberinfrastructure,
data,
data deluge,
intellectual property,
open access
Publication Date
May 27, 2010
Citation Information
Christine L Borgman. "The Digital Future is Now: What the Humanities can Learn from eScience"
Libraries in the Digital Age
(2010)
Available at: http://works.bepress.com/borgman/237/