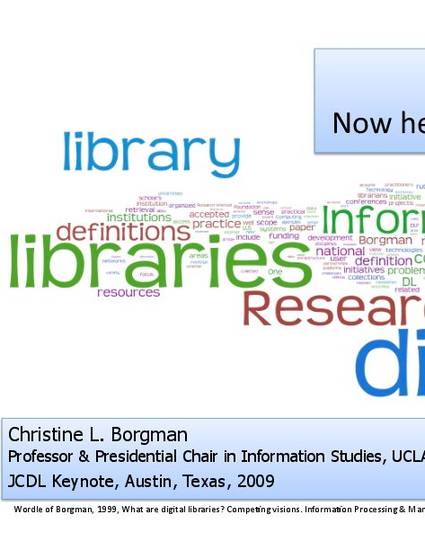 Presentation
Digital Libraries: Now here, or nowhere? (Keynote)
Joint Conference on Digital Libraries (2009)
Abstract
Digital libraries have matured over the 15+ years since the term was coined. Yet the term "digital libraries" has never come into general use outside of a select group of conferences and journals. Have digital libraries been subsumed under the rubric of cyberinfrastructure and eResearch? Have they fallen prey to the eternal debates between the (digital) library of the future and the future of (digital) libraries? Has a focus on technology obscured the larger questions of social practice that surround digital libraries? Or is digital library research at an inflection point, in a pivotal position to respond to the next wave of challenges for an information society?
Keywords
digital libraries,
history,
user-centered design,
cyberinfrastructure,
world wide web,
Center for Embedded Networked Sensing
Publication Date
June 15, 2009
Citation Information
Christine L Borgman. "Digital Libraries: Now here, or nowhere? (Keynote)"
Joint Conference on Digital Libraries
(2009)
Available at: http://works.bepress.com/borgman/213/