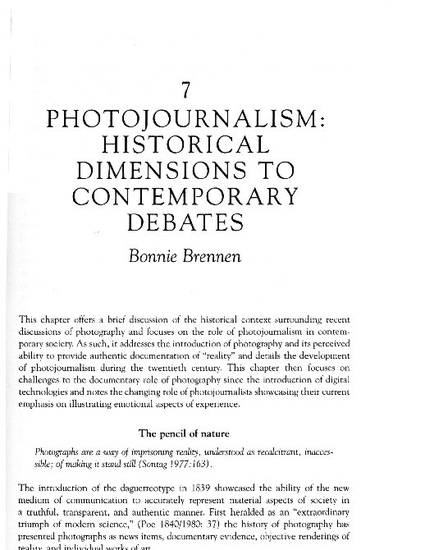 Article
Photojournalism: Historical Dimensions to Contemporary Debates
The Routledge Companion to News and Journalism
Document Type
Contribution to Book
Publication Date
1-1-2010
Publisher
Taylor & Francis
Original Item ID
Shelves: PN4731 .R68 2010 Memorial Level 4 Lower
Abstract
This chapter offers a brief discussion of the historical context surrounding recent discussions of photography and focuses on the role of photojournalism in contemporary society. As such, it addresses the introduction of photography and its perceived ability to provide authentic documentation of "reality" and details the development of photojournalism during the twentieth century. This chapter then focuses on challenges to the documentary role of photography since the introduction of digital technologies and notes the changing role of photojournalists showcasing their current emphasis on illustrating emotional aspects of experience.
Citation Information
Bonnie Brennen. "Photojournalism: Historical Dimensions to Contemporary Debates"
The Routledge Companion to News and Journalism
(2010) ISSN: 9780415465298
Available at: http://works.bepress.com/bonnie_brennen/73/