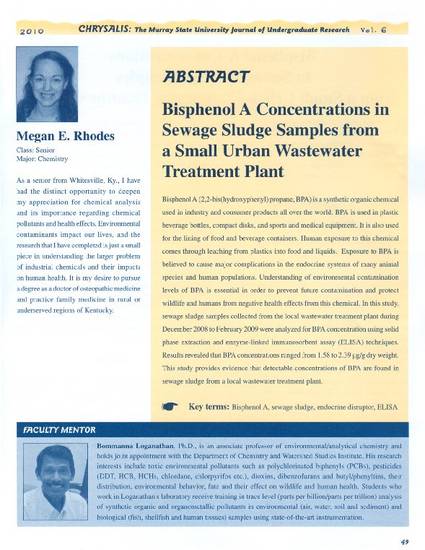 Article
Bisphenol A Concentrations in Sewage Sludge Samples from a Small Urban Wastewater Treatment Plant
Chrysalis: The Murray State University Journal of Undergraduate Research (2010)
Abstract
Bisphenol A Concentrations in Sewage Sludge Samples from a Small Urban Wastewater Treatment Plant.
Keywords
Bisphenol A,
Sewage Sludge,
Endocrine Disruptor,
ELISA
Publication Date
Spring May 31, 2010
Citation Information
Rhodes, M. 2010. Bisphenol A concentrations in sewage sludge samples from a small urban wastewater treatment plant. Chrysalis: The Murray State University Journal of Undergraduate Research 6, 49-54.
Creative Commons license
This work is licensed under a Creative Commons CC_BY-NC International License.