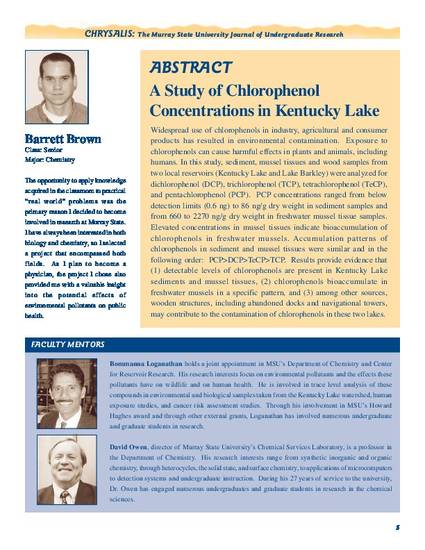 Article
A Study of Chlorophenol Concentrations in Kentucky Lake
Chrysalis: The Murray State University Journal of Undergraduate Research (2005)
Abstract
Widespread use of chlorophenols in industry, agricultural and consumer products has resulted in environmental contamination. Exposure to chlorophenols can cause harmful effects in plants and animals, including humans. In this study, sediment, mussel tissues and wood samples from two local reservoirs (Kentucky Lake and Lake Barkley) were analyzed for dichlorophenol (DCP), trichlorophenol (TCP), tetrachlorophenol (TeCP), and pentachlorophenol (PCP). PCP concentrations ranged from below detection limits (0.6 ng) to 86 ng/g dry weight in sediment samples and from 660 to 2270 ng/g dry weight in freshwater mussel tissue samples. Elevated concentrations in mussel tissues indicate bioaccumulation of chlorophenols in freshwater mussels. Accumulation patterns of chlorophenols in sediment and mussel tissues were similar and in the following order: PCP>DCP>TeCP>TCP. Results provide evidence that (1) detectable levels of chlorophenols are present in Kentucky Lake sediments and mussel tissues, (2) chlorophenols bioaccumulate in freshwater mussels in a specific pattern, and (3) among other sources, wooden structures, including abandoned docks and navigational towers, may contribute to the contamination of chlorophenols in these two lakes.
Citation Information
Brown, B. 2005. Chlorophenol concentrations in sediment and mussel tissues from selected locations in Kentucky Lake. Chrysalis, MSU Undergraduate Research Journal. Vol. 1. 5-10.
Creative Commons license
This work is licensed under a Creative Commons CC_BY-NC International License.