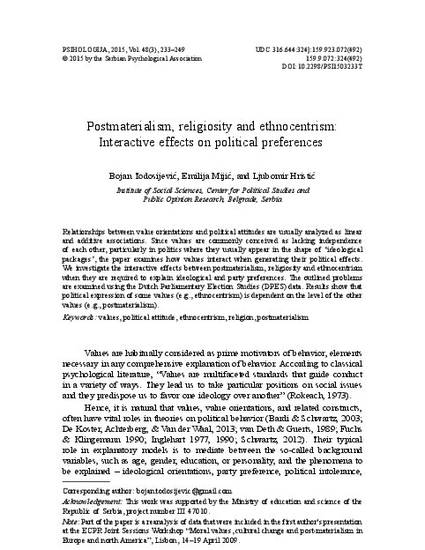 Article
Postmaterialism, religiosity and ethnocentrism: Interactive effects on political preferences
Psihologija (2015)
Abstract
Relationships between value orientations and political attitudes are usually analyzed as linear
and additive associations. Since values are commonly conceived as lacking independence
of each other, particularly in politics where they usually appear in the shape of 'ideological
packages', the paper examines how values interact when generating their political effects.
We investigate the interactive effects between postmaterialism, religiosity and ethnocentrism
when they are required to explain ideological and party preferences. The outlined problems
are examined using the Dutch Parliamentary Election Studies (DPES) data. Results show that
political expression of some values (e.g., ethnocentrism) is dependent on the level of the other
values (e.g., postmaterialism).
Keywords
values,
political attitude,
ethnocentrism,
religion,
postmaterialism
Citation Information
Bojan Todosijević, Emilija Mijić and Ljubomir Hristić. "Postmaterialism, religiosity and ethnocentrism: Interactive effects on political preferences"
Psihologija
Vol. 48 Iss. 3 (2015) p. 233 - 249 ISSN: 0048-5705
Available at: http://works.bepress.com/bojan_todosijevic/9/