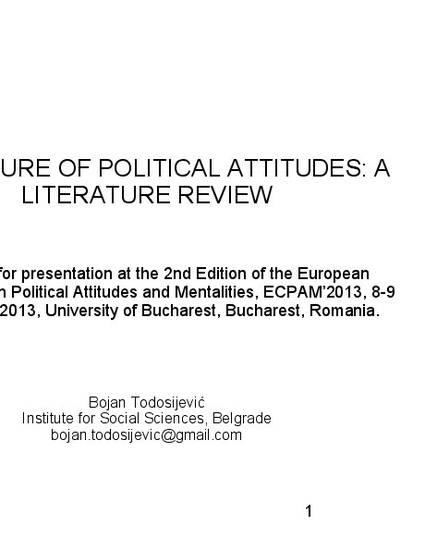 Presentation
STRUCTURE OF POLITICAL ATTITUDES: A LITERATURE REVIEW
Presentation prepared for the 2nd Edition of the European Conference on Political Attitudes and Mentalities, ECPAM'2013, 8-9 November, 2013, Romania. (2013)
Abstract
The study reviews social-psychological literature on the organization of social attitudes, or the structure of ideology. Research on this topic started nearly eight decades ago, inspired by the research on the structure of intellectual abilities. Since then, a large body of literature has been generated, which has not been systematically reviewed. Despite the long tradition, this literature has not resulted in proportional cumulative scientific development. It is hoped that this paper may help in this regard by listing the the relevant studies, examining the research methodology and the main findings. The review ends with the critical summary of the man findings and methodological problems, and recommendations for the future research.
Keywords
political attitudes,
ideology,
political culture
Publication Date
November, 2013
Citation Information
Bojan Todosijević. "STRUCTURE OF POLITICAL ATTITUDES: A LITERATURE REVIEW". Presentation prepared the 2nd Edition of the European Conference on Political Attitudes and Mentalities, ECPAM'2013, 8-9 November, 2013, University of Bucharest, Bucharest, Romania.