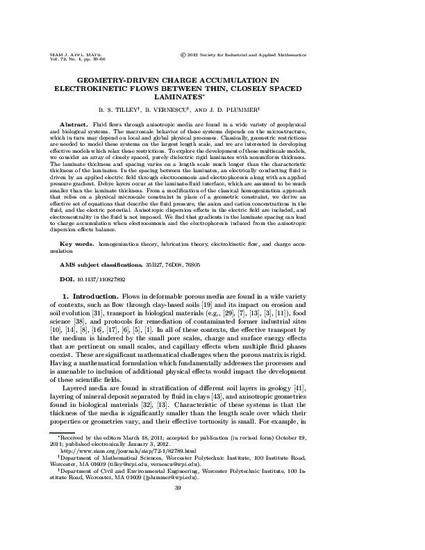 Article
Geometry-Driven Charge Accumulation in Electrokinetic Flows Between Thin, Closely Spaced Laminates
SIAM Journal on Applied Mathematics
Publication Date
1-3-2012
Abstract
Fluid flows through anisotropic media are found in a wide variety of geophysical and biological systems. The macroscale behavior of these systems depends on the microstructure, which in turn may depend on local and global physical processes. Classically, geometric restrictions are needed to model these systems on the largest length scale, and we are interested in developing effective models which relax these restrictions. To explore the development of these multiscale models, we consider an array of closely spaced, purely dielectric rigid laminates with nonuniform thickness. The laminate thickness and spacing varies on a length scale much longer than the characteristic thickness of the laminates. In the spacing between the laminates, an electrically conducting fluid is driven by an applied electric field through electroosmosis and electrophoresis along with an applied pressure gradient. Debye layers occur at the laminate-fluid interface, which are assumed to be much smaller than the laminate thickness. From a modification of the classical homogenization approach that relies on a physical microscale constraint in place of a geometric constraint, we derive an effective set of equations that describe the fluid pressure, the anion and cation concentrations in the fluid, and the electric potential. Anisotropic dispersion effects in the electric field are included, and electroneutrality in the fluid is not imposed. We find that gradients in the laminate spacing can lead to charge accumulation when electroosmosis and the electrophoresis induced from the anisotropic dispersion effects balance.
Publisher Statement
This work has a Creative Commons license.
Citation Information
Burt S. Tilley, Bogdan M. Vernescu and J. D. Plummer. "Geometry-Driven Charge Accumulation in Electrokinetic Flows Between Thin, Closely Spaced Laminates"
SIAM Journal on Applied Mathematics
Vol. 72 Iss. 1 (2012) p. 39 - 60
Available at: http://works.bepress.com/bogdan_vernescu/1/