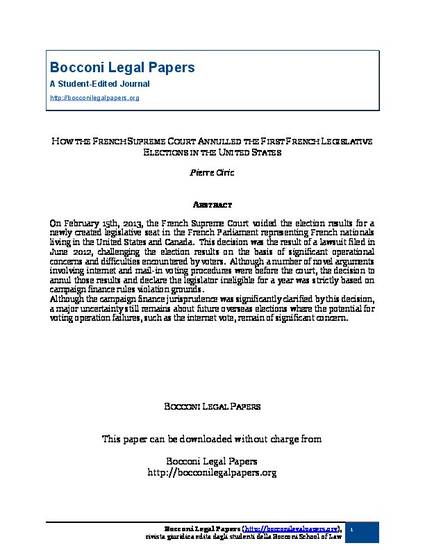 Article
HOW THE FRENCH SUPREME COURT ANNULLED THE FIRST FRENCH LEGISLATIVE ELECTIONS IN THE UNITED STATES
Bocconi Legal Papers - A Student-Edited Journal No. 2013-01-IT (2013)
Abstract
On February 15th, 2013, the French Supreme Court voided the election results for a newly created legislative seat in the French Parliament representing French nationals living in the United States and Canada. This decision was the result of a lawsuit filed in June 2012, challenging the election results on the basis of significant operational concerns and difficulties encountered by voters. Although a number of novel arguments involving internet and mail-in voting procedures were before the court, the decision to annul those results and declare the legislator ineligible for a year was strictly based on campaign finance rules violation grounds. Although the campaign finance jurisprudence was significantly clarified by this decision, a major uncertainty still remains about future overseas elections where the potential for voting operation failures, such as the internet vote, remain of significant concern.
Publication Date
October, 2013
Citation Information
Pierre Ciric. "HOW THE FRENCH SUPREME COURT ANNULLED THE FIRST FRENCH LEGISLATIVE ELECTIONS IN THE UNITED STATES"
Bocconi Legal Papers - A Student-Edited Journal No. 2013-01-IT
(2013)
Available at: http://works.bepress.com/bocconi_legal_papers/45/