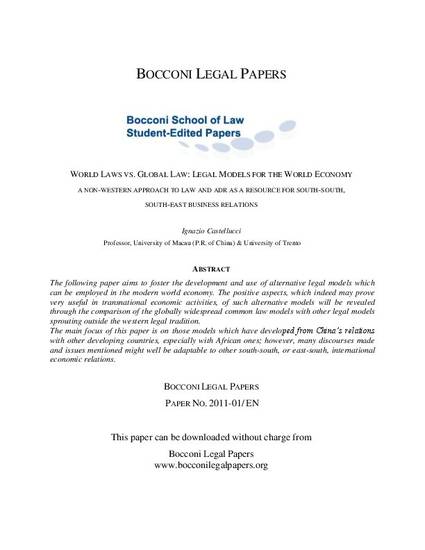 Article
World Law Vs Global Law: Legal Models for the World Economy. A Non-Western Approach to Law and ADR as a Resource for South-South, South-East Business Relations
Bocconi School of Law Student-Edited Papers No. 2011-01/EN (2011)
Abstract
The following paper aims to foster the development and use of alternative legal models which can be employed in the modern world economy. The positive aspects, which indeed may prove very useful in transnational economic activities, of such alternative models will be revealed through the comparison of the globally widespread common law models with other legal models sprouting outside the western legal tradition.
The main focus of this paper is on those models which have developed from China?s relations with other developing countries, especially with African ones; however, many discourses made and issues mentioned might well be adaptable to other south-south, or east-south, international economic relations.
Citation Information
Ignazio Castellucci. "World Law Vs Global Law: Legal Models for the World Economy. A Non-Western Approach to Law and ADR as a Resource for South-South, South-East Business Relations"
Bocconi School of Law Student-Edited Papers No. 2011-01/EN
(2011)
Available at: http://works.bepress.com/bocconi_legal_papers/29/