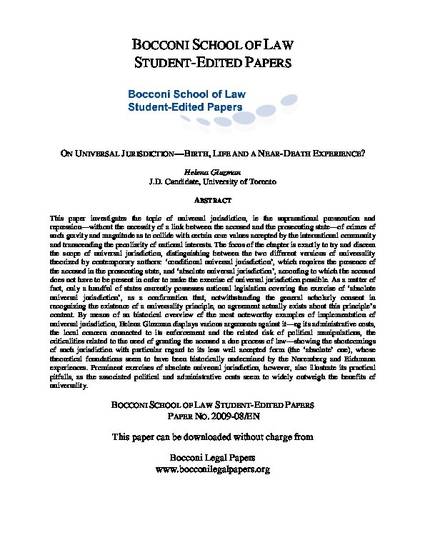 Article
On Universal Jurisdiction—Birth, Life and a Near-Death Experience?
Bocconi School of Law Student-Edited Papers (2009)
Abstract
This paper investigates the topic of universal jurisdiction, ie the supranational prosecution and repression—without the necessity of a link between the accused and the prosecuting state—of crimes of such gravity and magnitude as to collide with certain core values accepted by the international community and transcending the peculiarity of national interests. The focus of the chapter is exactly to try and discern the scope of universal jurisdiction, distinguishing between the two different versions of universality theorized by contemporary authors: 'conditional universal jurisdiction', which requires the presence of the accused in the prosecuting state, and 'absolute universal jurisdiction', according to which the accused does not have to be present in order to make the exercise of universal jurisdiction possible. As a matter of fact, only a handful of states currently possesses national legislation covering the exercise of 'absolute universal jurisdiction', as a confirmation that, notwithstanding the general scholarly consent in recognizing the existence of a universality principle, no agreement actually exists about this principle's content. By means of an historical overview of the most noteworthy examples of implementation of universal jurisdiction, Helena Gluzman displays various arguments against it—eg its administrative costs, the local concern connected to its enforcement and the related risk of political manipulations, the criticalities related to the need of granting the accused a due process of law—showing the shortcomings of such jurisdiction with particular regard to its less wellaccepted form (the 'absolute' one), whose theoretical foundations seem to have been historically undermined by the Nuremberg and Eichmann experiences. Prominent exercises of absolute universal jurisdiction, however, also illustrate its practical pitfalls, as the associated political and administrative costs seem to widely outweigh the benefits of universality.
Keywords
Universal Jurisdiction,
Absolute,
Conditional,
Nuremberg,
Eichmann,
Pinochet,
Belgium,
Spain,
Guatemalan Generals
Citation Information
Helena Gluzman,
On Universal Jurisdiction—Birth, Life and a Near-Death Experience?
,
Bocconi Sch. L. Student-Ed. Papers, No. 2009-08/EN
(2009),
forthcoming in
Law & Globalization
(Bocconi Sch. L. Student-Ed. Papers ed., VDM Publishing Saarbrücken 2009).