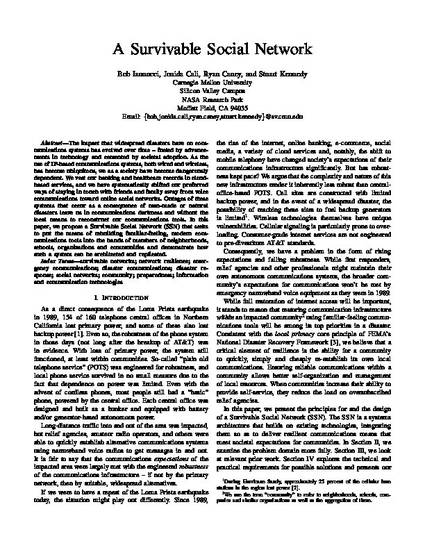 Article
A Survivable Social Network
2013 IEEE International Conference on Technologies for Homeland Security (2013)
Abstract
The impact that widespread disasters have on communications systems has evolved over time -- fueled by advancements in technology and cemented by societal adoption.  As the use of IP-based communications systems, both wired and wireless, has become ubiquitous, we as a society have become dangerously dependent.  We vest our banking and healthcare records in cloud-based services, and we have systematically shifted our preferred ways of staying in touch with friends and family away from voice communications toward online social networks.  Outages of these systems that occur as a consequence of man-made or natural disasters leave us in communications darkness and without the local means to reconstruct our communications tools.  In this paper, we propose a Survivable Social Network (SSN) that seeks to put the means of rebuilding familiar-feeling, modern communications tools into the hands of members of neighborhoods, schools, organizations and communities and demonstrate how such a system can be architected and replicated.
Publication Date
November, 2013
Citation Information
Robert A Iannucci, Jonida Cali, Ryan Caney and Stuart Kennedy. "A Survivable Social Network"
2013 IEEE International Conference on Technologies for Homeland Security
(2013)
Available at: http://works.bepress.com/bob/18/