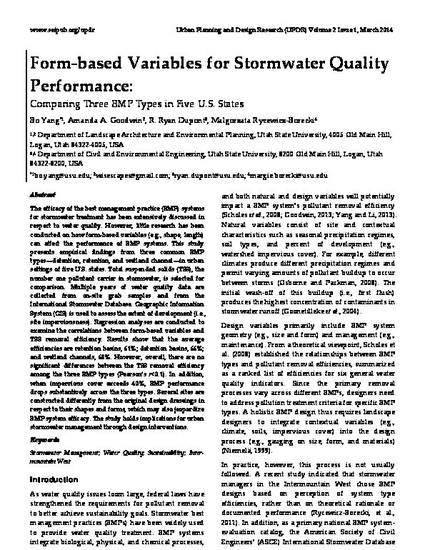 Article
Form-based variables for stormwater quality performance: comparing three BMP types in five U.S. States
Urban Planning and Design Research (2014)
Abstract
The efficacy of the best management practice (BMP) systems for stormwater treatment has been extensively discussed in respect to water quality. However, little research has been conducted on how form-based variables (e.g., shape, length) can affect the performance of BMP systems. This study presents empirical findings from three common BMP types—detention, retention, and wetland channel—in urban settings of five U.S. states. Total suspended solids (TSS), the number one pollutant carrier in stormwater, is selected for comparison. Multiple years of water quality data are collected from on-site grab samples and from the International Stormwater Database. Geographic Information System (GIS) is used to assess the extent of development (i.e., site imperviousness). Regression analyses are conducted to examine the correlations between form-based variables and TSS removal efficiency. Results show that the average efficiencies are retention basins, 61%; detention basins, 66%; and wetland channels, 68%. However, overall, there are no significant differences between the TSS removal efficiency among the three BMP types (Pearson's r<0.1). In addition, when impervious cover exceeds 40%, BMP performance drops substantively across the three types. Several sites are constructed differently from the original design drawings in respect to their shapes and forms, which may also jeopardize BMP system efficacy. The study holds implications for urban stormwater management through design interventions.
Keywords
Stormwater Management; Water Quality; Sustainability; Inter-mountain West
Citation Information
Bo Yang, Amanda A Goodwin, Ryan R Dupont and Malgorzata Rycewicz-Borecki. "Form-based variables for stormwater quality performance: comparing three BMP types in five U.S. States"
Urban Planning and Design Research
Vol. 2 Iss. 1 (2014)
Available at: http://works.bepress.com/bo_yang/61/