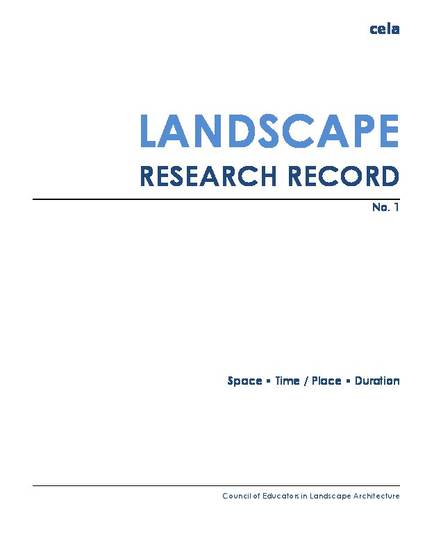 Article
Performance and Economic Benefits of Four Streetscape Renovations: A Comparative Case Study Investigation
Landscape Research Record (2014)
Abstract
The demonstration of landscape performance benefits has become increasingly important in landscape architecture practice and in communicating to interdisciplinary audiences. This paper provides an overview of the Landscape Architecture Foundation Case Study Investigation (CSI) program and introduces four built streetscape projects investigated in the 2012 CSI program, including a large-scale permeable pavement project in Charles City, Iowa, and the American Society of Landscape Architects' award-winning projects in Missouri, California, and Colorado. Unlike traditional streetscape design that mainly focuses on safety and engineering principles, these four streetscape projects tackled unique design challenges, and more importantly, have captured baseline data that help demonstrate landscape performance benefits and the effectiveness of design. Totally 32 performance benefits are captured through the CSI program (e.g., visual quality enhancement, and water and energy conservation). This paper specifically illustrates the 14 economic benefits. For each project, detailed methodology is provided for a selected economic benefit example demonstrating how the performance benefit was monetized. Findings suggest compelling economic benefits such as South Grand's streetscape project (Missouri), which is expected to provide $3 million annual savings to the City through significant reduction of traffic speed and accident rates and also the enhancement of pedestrian and ADA accessibility. The paper ends with a discussion on how streetscape projects can be improved through CSI research and key lessons learned from the CSI program (e.g., limited time-frame of conducting research and lack of financial support for first-hand data collection).
Keywords
sustainability,
post-occupancy evaluation,
Design Workshop,
Conservation Design Forum,
ecosystem services
Citation Information
Bo Yang, Yue Zhang and Pamela Blackmore. "Performance and Economic Benefits of Four Streetscape Renovations: A Comparative Case Study Investigation"
Landscape Research Record
Vol. 1 (2014)
Available at: http://works.bepress.com/bo_yang/57/