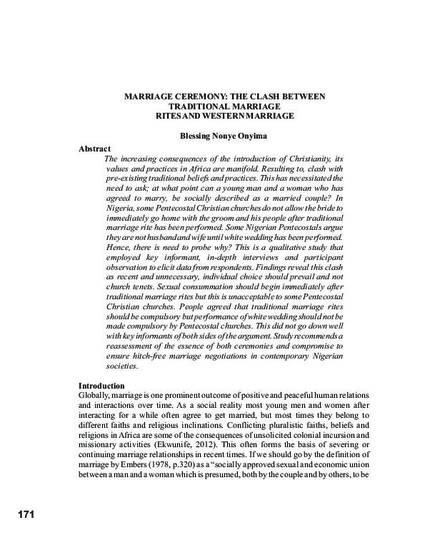 Article
MARRIAGE CEREMONY: THE CLASH BETWEEN TRADITIONAL MARRIAGE RITES AND WESTERN MARRIAGE
International Journal of Religion & Human Relations (2014)
Abstract
The increasing consequences of the introduction of Christianity, its
values and practices in Africa are manifold. Resulting to, clash with
pre-existing traditional beliefs and practices. This has necessitated the
need to ask; at what point can a young man and a woman who has
agreed to marry, be socially described as a married couple? In
Nigeria, some Pentecostal Christian churches do not allow the bride to
immediately go home with the groom and his people after traditional
marriage rite has been performed. Some Nigerian Pentecostals argue
they are not husband and wife until white wedding has been performed.
Hence, there is need to probe why? This is a qualitative study that
employed key informant, in-depth interviews and participant
observation to elicit data from respondents. Findings reveal this clash
as recent and unnecessary, individual choice should prevail and not
church tenets. Sexual consummation should begin immediately after
traditional marriage rites but this is unacceptable to some Pentecostal
Christian churches. People agreed that traditional marriage rites
should be compulsory but performance of white wedding should not be
made compulsory by Pentecostal churches. This did not go down well
with key informants of both sides of the argument. Study recommends a
reassessment of the essence of both ceremonies and compromise to
ensure hitch-free marriage negotiations in contemporary Nigerian
societies.
Publication Date
October 5, 2014
Citation Information
Blessing Onyima. "MARRIAGE CEREMONY: THE CLASH BETWEEN TRADITIONAL MARRIAGE RITES AND WESTERN MARRIAGE"
International Journal of Religion & Human Relations
Vol. 1 Iss. 6 (2014) p. 171 - 180 ISSN: ISSN 2006-5442
Available at: http://works.bepress.com/blessing-onyima/11/