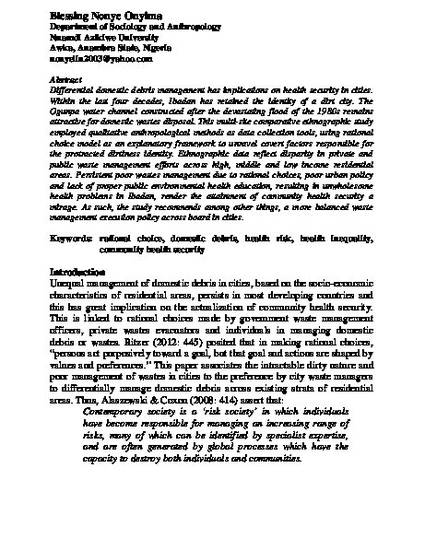 Article
Domestic Debris Management and Community Health Security in Ibadan, Nigeria
The Nigerian Journal of Sociology and Anthropology (2013)
Abstract
Differential domestic debris management has implications on health security in cities.
Within the last four decades, Ibadan has retained the identity of a dirt city. The
Ogunpa water channel constructed after the devastating flood of the 1980s remains
attractive for domestic wastes disposal. This multi-site comparative ethnographic study
employed qualitative anthropological methods as data collection tools, using rational
choice model as an explanatory framework to unravel covert factors responsible for
the protracted dirtiness identity. Ethnographic data reflect disparity in private and
public waste management efforts across high, middle and low income residential
areas. Persistent poor wastes management due to rational choices, poor urban policy
and lack of proper public environmental health education, resulting in unwholesome
health problems in Ibadan, render the attainment of community health security a
mirage. As such, the study recommends among other things, a more balanced waste
management execution policy across board in cities.
Keywords
rational choice,
domestic debris,
health risk,
health inequality,
community health security
Publication Date
June 6, 2013
Citation Information
Blessing Onyima. "Domestic Debris Management and Community Health Security in Ibadan, Nigeria"
The Nigerian Journal of Sociology and Anthropology
Vol. 11 Iss. 2 (2013) p. 101 - 116 ISSN: ISSN 0331-4111
Available at: http://works.bepress.com/blessing-onyima/10/