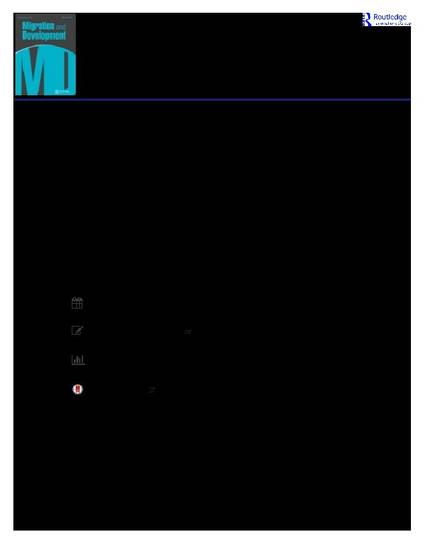 Article
'What we were running from is what we're facing again': examining the paradox of migration as a livelihood improvement strategy among migrant women farmers in the Brong-Ahafo Region of Ghana
Migration and Development (2019)
Abstract
Migration to the Brong-Ahafo Region (BAR) of Ghana is a popular adaptation strategy employed by subsistence farmers in Upper West Region (UWR) in coping with environmental degradation, poverty and food insecurity. Women are migrating, as well as joining their partners in rural farming areas of the BAR in increasing numbers. Most previous research on migration in this context has focused on men. Informed by a Feminist Political Ecology (FPE) perspective, this paper uses a qualitative approach in examining the lived experiences of migrant women. The findings show that migrant women reap limited economic benefits from migration. This is mainly due to economic, structural and cultural barriers that hinder women's autonomy and their effective utilisation of agricultural and food resources in the migration destination. These findings highlight the need to reassess current laws around land ownership and use in Ghana, to optimise benefits for women. In addition, agricultural intervention programmes should involve both migrant women and men, and take into account cultural contexts. Finally, enabling alternative non-farming livelihoods would empower migrant women economically.
Keywords
gender,
migration,
agriculture,
climate change,
Ghana,
Sub-Saharan Africa
Citation Information
Bipasha Baruah. "'What we were running from is what we're facing again': examining the paradox of migration as a livelihood improvement strategy among migrant women farmers in the Brong-Ahafo Region of Ghana"
Migration and Development
(2019)
Available at: http://works.bepress.com/bipasha-baruah/7/