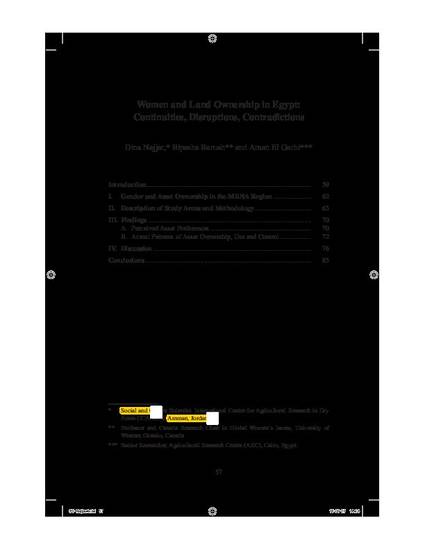 Contribution to Book
Women and Land Ownership in Egypt: Continuities, Disruptions, Contradictions
Access to Land and Social Issues: Precarity, Territoriality, Identity (2018)
Abstract
The Middle East and North Africa (MENA) region has one of the lowest rates of women's land ownership (5 percent) in the world, but there is very little research aimed at understanding the barriers and opportunities women face in property ownership in any of the countries in the region. This paper identifies gendered patterns, opportunities and constraints for land ownership in Egypt. We identify the types of assets women and men perceive as beneficial for their wellbeing, and determine if patterns of asset preference, ownership and control coincide with one another. A survey was administered in 2015 to 200 men and 202 women in the Old and New Lands of Egypt, whichhave common socio-cultural, historical, and economic ties but differ significantly in socio-cultural norms, economic, and political context for women's land ownership. Survey findings were juxtaposed with qualitative information gathered from 120 semi-structured interviews in the two areas in 2016. We found that both women and men considered land and houses to be the most economically and socially important assets but men and women differed significantly in what they considered to be valuable assets for women. We found that gold jewelry and livestock were indeed useful assets for women, but they were far more liquefiable and easily alienable from women than land and houses. These findings highlight the importance of implementing specific policies to enable women to own and control landed property. We discovered simultaneously that women may not be as severely disadvantaged in land ownership in Egypt as was reported for the MENA region. Our findings urge us to caution against the dramatization of women's marginalization in land ownership, and encourages more empirical and nuanced inquiries into women's ownership and control over land in different world regional contexts.
Keywords
gender,
landownership,
women,
Egypt
Citation Information
Bipasha Baruah. "Women and Land Ownership in Egypt: Continuities, Disruptions, Contradictions"
Access to Land and Social Issues: Precarity, Territoriality, Identity
(2018)
Available at: http://works.bepress.com/bipasha-baruah/32/