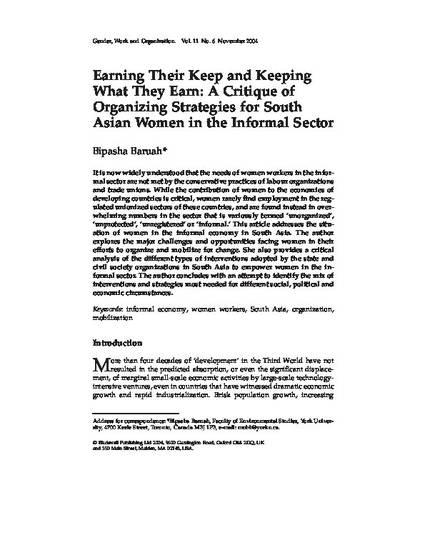 Article
Earning Their Keep and Keeping What They Earn: A Critique of Organizing Strategies for South Asian Women in the Informal Sector
Gender, Work and Organization (2004)
Abstract
It is now widely understood that the needs of women workers in the informal sector are not met by the conservative practices of labour organizations and trade unions. While the contribution of women to the economies of developing countries is critical, women rarely find employment in the regulated unionized sectors of these countries, and are found instead in overwhelming numbers in the sector that is variously termed 'unorganized', 'unprotected', 'unregistered' or 'informal.' This article addresses the situation of women in the informal economy in South Asia. The author explores the major challenges and opportunities facing women in their efforts to organize and mobilize for change. She also provides a critical analysis of the different types of interventions adopted by the state and civil society organizations in South Asia to empower women in the informal sector. The author concludes with an attempt to identify the mix of interventions and strategies most needed for different social, political and economic circumstances.
Keywords
informal economy,
women workers,
South Asia,
organization,
mobilization
Citation Information
Bipasha Baruah. "Earning Their Keep and Keeping What They Earn: A Critique of Organizing Strategies for South Asian Women in the Informal Sector"
Gender, Work and Organization
(2004)
Available at: http://works.bepress.com/bipasha-baruah/27/