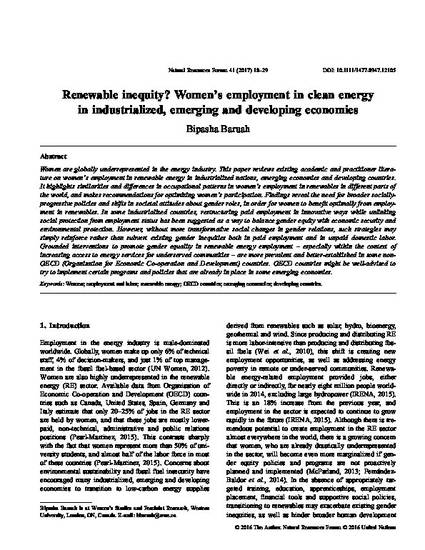 Article
Renewable inequity? Women's employment in clean energy in industrialized, emerging and developing economies
Natural Resources Forum (2017)
Abstract
Women are globally underrepresented in the energy industry. This paper reviews existing academic and practitioner literature on women's employment in renewable energy in industrialized nations, emerging economies and developing countries. It highlights similarities and differences in occupational patterns in women's employment in renewables in different parts of the world, and makes recommendations for optimizing women's participation. Findings reveal the need for broader socially progressive policies and shifts in societal attitudes about gender roles, in order for women to benefit optimally from employment in renewables. In some industrialized countries, restructuring paid employment in innovative ways while unlinking social protection from employment status has been suggested as a way to balance gender equity with economic security and environmental protection. However, without more transformative social changes in gender relations, such strategies may simply reinforce rather than subvert existing gender inequities both in paid employment and in unpaid domestic labor. Grounded interventions to promote gender equality in renewable energy employment – especially within the context of increasing access to energy services for underserved communities – are more prevalent and better-established in some non- OECD (Organisation for Economic Co-operation and Development) countries. OECD countries might be well-advised to try to implement certain programs and policies that are already in place in some emerging economies.
Keywords
women,
employment and labour,
renewable energy,
OECD countries,
emerging economies,
developing countries
Citation Information
Bipasha Baruah. "Renewable inequity? Women's employment in clean energy in industrialized, emerging and developing economies"
Natural Resources Forum
(2017)
Available at: http://works.bepress.com/bipasha-baruah/13/