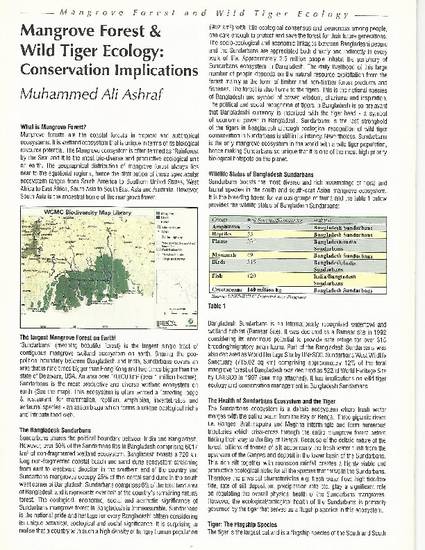 Article
Mangrove forest and wild tiger ecology: Conservation implications
Institute for Ecological and Environmental Management (IEEM-UK) - In Practice Magazine UK (2004)
Abstract
Sundarbans mangrove ecosystem in bangladesh is unique due to its high socio-ecological and ecosystem significance. This ecosystem is the only wetland based biome that harbours wild Bengal tiger (Panthera tigris tigris) in Bangladesh. The article provide brief background of Bangladesh Sundarbans mangrove and its intricate ecological and sociological parameters in relation to tiger ecology and conservation in Bangladesh landscape....
Keywords
Mangrove,
Tiger Ecology,
Sundarbans,
Biodiversity,
Conservation Biology,
Ramsar Site,
Population Ecology,
Tiger Conservation,
Bengal Tiger,
Wetland,
Endangered Species
Publication Date
Spring 2004
Citation Information
Mohammed Ashraf. "Mangrove forest and wild tiger ecology: Conservation implications"
Institute for Ecological and Environmental Management (IEEM-UK) - In Practice Magazine UK
(2004)
Available at: http://works.bepress.com/biocentrism/6/