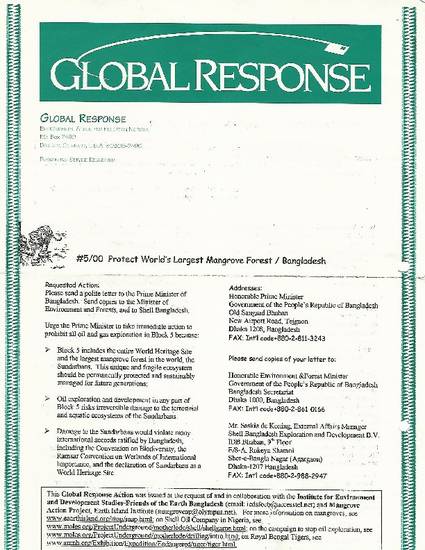 Popular Press
Protect world's largest mangrove forest in Bangladesh
Global Response Action Alert (2000)
Abstract
Sundarbans mangrove ecosystem is one of the most unique biodiverse wetland biome in tropical and semi tropical belt. This is the only wetland ecosystem that harbor wild Bengal tiger (Panthera tigris tigris) in Bangladesh. Although the population size of Bengal tiger is pretty low with less than 1 tiger per 100 sq km of the forest, the Sundarbans however is one of the most productive ecosystem for long term survival of tiger population. The mangrove biome is under enrmous threat by oil giant tycoon from Anglo-Dutch origin and their mineral exploration activities will threaten the biodiversity of the ecosystem. This report provide basic information regarding the Sundarbans mangrove and its current threat by Shell Energy company...
Keywords
Mangroves,
Bengal Tiger,
Ecology,
Wetland,
Biodiversity,
Ecosystem,
Sundarbans
Publication Date
Fall September, 2000
Citation Information
Mohammed Ashraf. "Protect world's largest mangrove forest in Bangladesh"
Global Response Action Alert
(2000)
Available at: http://works.bepress.com/biocentrism/2/