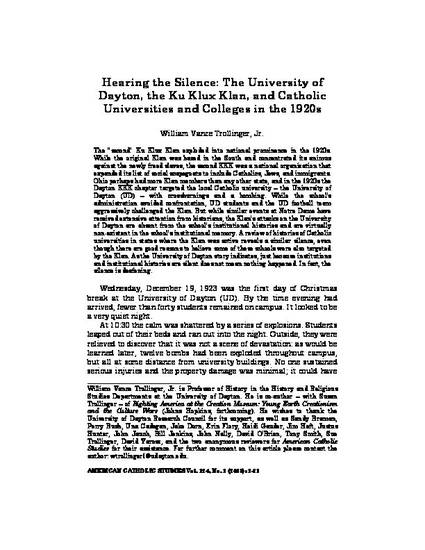 Article
Hearing the Silence: The University of Dayton, the Ku Klux Klan, and Catholic Universities and Colleges in the 1920s
American Catholic Studies
Publication Date
4-1-2013
Abstract
The "second" Ku Klux Klan exploded into national prominence in the 1920s. While the original Klan was based in the South and concentrated its animus against the newly freed slaves, the second KKK was a national organization that expanded its list of social scapegoats to include Catholics, Jews, and immigrants. Ohio perhaps had more Klan members than any other state, and in the 1920s the Dayton KKK chapter targeted the local Catholic university – the University of Dayton (UD) – with crossburnings and a bombing. While the school's administration avoided confrontation, UD students and the UD football team aggressively challenged the Klan. But while similar events at Notre Dame have received extensive attention from historians, the Klan's attacks on the University of Dayton are absent from the school's institutional histories and are virtually non-existent in the school's institutional memory. A review of histories of Catholic universities in states where the Klan was active reveals a similar silence, even though there are good reasons to believe some of these schools were also targeted by the Klan. As the University of Dayton story indicates, just because institutions and institutional histories are silent does not mean nothing happened. In fact, the silence is deafening.
Document Version
Published Version
Copyright
Copyright © 2013, American Catholic Historical Society.
Publisher
American Catholic Historical Society
Citation Information
William Vance Trollinger. "Hearing the Silence: The University of Dayton, the Ku Klux Klan, and Catholic Universities and Colleges in the 1920s"
American Catholic Studies
Vol. 124 (2013)
Available at: http://works.bepress.com/bill_trollinger/15/