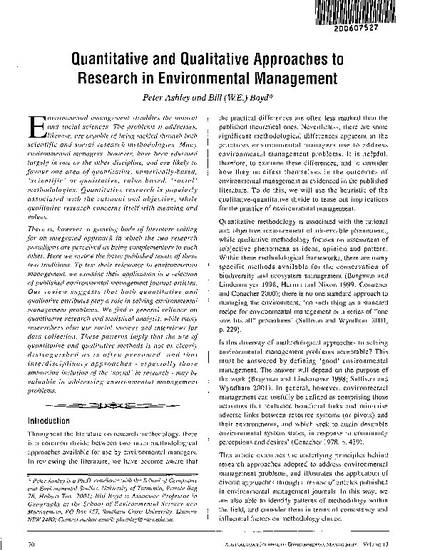 Article
Quantitative and qualitative approaches to research in environmental management
Australasian Journal of Environmental Management
Publication Date
1-1-2006
Peer Reviewed
Peer-Reviewed
Abstract
Environmental management straddles the natural and social sciences. The problems it addresses, likewise, are capable of being tackled through both scientific and social research methodologies. Many environmental managers, however, have been educated largely in one or the other discipline, and are likely to favour one area of quantitative, numerically-based, 'scientific' or qualitative, value-based, 'social' methodologies. Quantitative research is popularly associated with the rational and objective, while qualitative research concerns itself with meaning and values. There is, however, a growing body of literature calling for an integrated approach in which the two research paradigms are perceived as being complementary to each other. Here we review the basic published tenets of these two traditions. To test their relevance to environmental management, we examine their application in a selection of published environmental management journal articles. Our review suggests that both quantitative and qualitative attributes play a role in solving environmental management problems. We find a general reliance on quantitative research and statistical analysis, while many researchers also use social surveys and interviews for data collection. These patterns imply that the use of quantitative and qualitative methods is not as clearly distinguished as is often presumed, and that interdisciplinary approaches - especially those embracing inclusion of the 'social' in research - may be valuable in addressing environmental management problems.
Citation Information
Ashley, P & Boyd, WE 2006, 'Quantitative and qualitative approaches to research in environmental management,
Australasian Journal of Environmental Management
, vol. 13, no. 2, pp. 70-78.
The abstract and pdf of the published article reproduced in ePublications@SCU with the permission Australasian Journal of Environmental Management