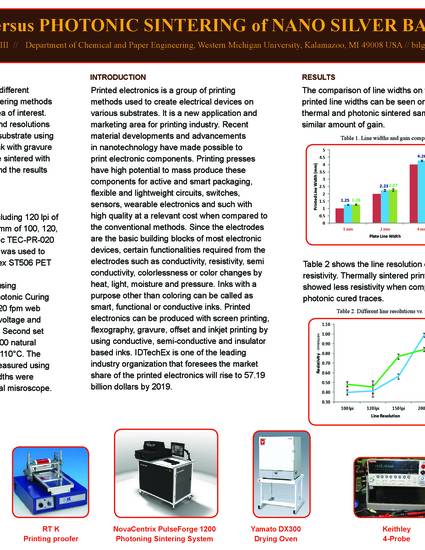 Article
Thermal vs. Photonic Sintering of Nano Silver Based Conductive Inks
3. International Congress on Nano Science & Nano Technology (2015)
Abstract
Conductive ink formulations with different electrical properties and their sintering methods after printing are an emerging area of interest. In this work, different line width and resolutions were printed on a a flexible PET substrate using a nano silver based conductive ink with gravure printing. Then printed traces were sintered with two different sintering methods and the results were compared.
Keywords
Conductive ink,
Silver,
Nano science,
Photonic sintering,
Thermal sintering
Publication Date
June, 2015
Citation Information
Bilge N Altay and Paul D. Fleming. "Thermal vs. Photonic Sintering of Nano Silver Based Conductive Inks"
3. International Congress on Nano Science & Nano Technology
(2015)
Available at: http://works.bepress.com/bilge-nazli-altay/13/