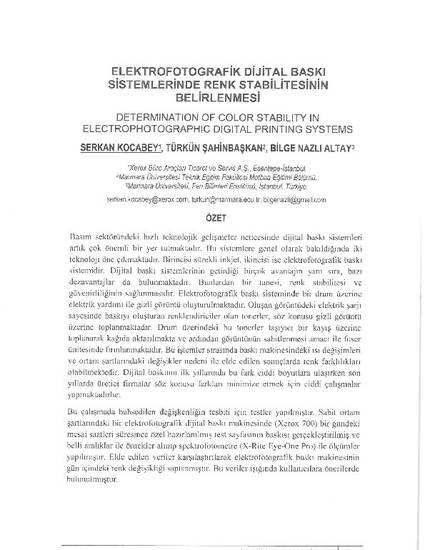 Article
Determination of Color Stability in Electrophotographic Digital Printing Systems
4. International Printing Technologies Symposium (2011)
Abstract
As a result of rapid technological advances in printing industry, digital printing systems now holds an important place. Looking at these systems in general, two technologies come forward. First one is continuous inkjet and the second is electrophotographic printing system. Digital printing systems have some advantages as well as some disadvantages. One of them is to provide color stability and reliability. A latent image is generated on the drum by electric charge in electrophotographic printing system. Toner is brought onto the latent image thanks to the electric charge on the latent image. The toner on the drum is collected on a image transfer belt and transferred first to the paper and second to fuser unit to fix it on the paper. Color differences can be obtained in the results due to temperature changes in the printing machine and changes in ambient conditions during these processes. This difference has reached serious proportions in the early years of digital printing while manufacturers have been working seriously in order to minimize such differences in recent years. In this study, the tests were conducted to determine the mentioned differences. A custom test page was printed during hours of labor of a day on the electrophotographic digital printing machine (Xerox 700) with constant ambient conditions and the samples taken periodically were measured with spectrophotometer (X-Rite Eye-One Pro). Color deviation on the electrophotographic printing device within a labor day has been determined by comparing the obtained data. Suggestions were made  to users in accordance with the results.
Keywords
Digital Printing,
Electrophotography,
Color stability
Citation Information
S. Kocabey, T. Sahinbaskan and Bilge N Altay. "Determination of Color Stability in Electrophotographic Digital Printing Systems"
4. International Printing Technologies Symposium
(2011)
Available at: http://works.bepress.com/bilge-nazli-altay/12/