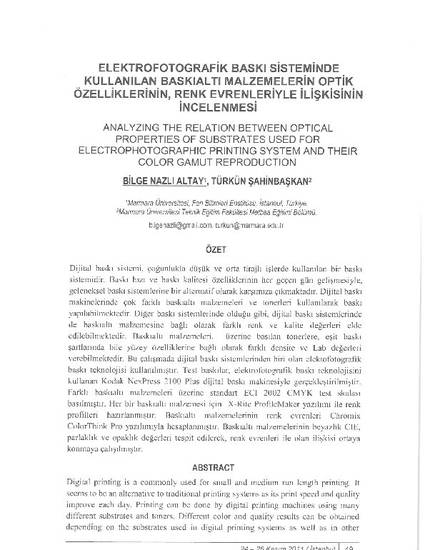 Article
Analyzing the Relation Between Optical Properties Of Substrates Used For Electrophotographic Printing System And Their Color Gamut Reproduction
4. International Printing Technologies Symposium (2011)
Abstract
Digital printing is a commonly used for small and medium run length printing. It seems to be an alternative to traditional printing systems as its print speed and quality improve each day. Printing can be done by digital printing machines using many different substrates and toners. Different color and quality results can be obtained depending on the substrates used in digital printing systems as well as in other printing systems. Substrates give different results for density and Lab values depending on their surface characteristics even if they print at the same printing conditions. Electrophotographic printing technology is one of the digital printing systems used for this study. Test prints were printed on a Kodak NexPress 2100 Plus digital printing machine which also uses electrophotographic printing technology. An ECI 2002 CMYK standard test chart was printed on different substrates. Color profiles for each substrate were created by using X-Rite ProfileMaker software. Substrates' color gamuts were calculated by using Chromix ColorThink Pro software. Whiteness CIE, brightness and opacity of the substrates were determined and evaluated in the relationship between color gamuts.
Keywords
Color,
Substrates,
Optical properties,
Electrophotography,
Digital printing
Citation Information
Bilge N Altay and T. Sahinbaskan. "Analyzing the Relation Between Optical Properties Of Substrates Used For Electrophotographic Printing System And Their Color Gamut Reproduction"
4. International Printing Technologies Symposium
(2011)
Available at: http://works.bepress.com/bilge-nazli-altay/11/