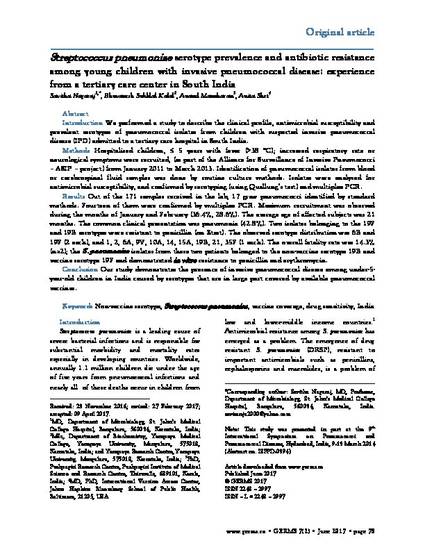 Article
Streptococcus pneumoniae serotype prevalence and antibiotic resistance among young children with invasive pneumococcal disease: experience from a tertiary care center in South India
Germs (2017)
Abstract
Introduction
We performed a study to describe the clinical profile, antimicrobial susceptibility and prevalent serotypes of pneumococcal isolates from children with suspected invasive pneumococcal disease (IPD) admitted to a tertiary care hospital in South India.
Methods
Hospitalized children, ≤ 5 years with fever (>38 °C); increased respiratory rate or neurological symptoms were recruited, (as part of the Alliance for Surveillance of Invasive Pneumococci – ASIP – project) from January 2011 to March 2013. Identification of pneumococcal isolates from blood or cerebrospinal fluid samples was done by routine culture methods. Isolates were analyzed for antimicrobial susceptibility, and confirmed by serotyping (using Quellung's test) and multiplex PCR.
Results
Out of the 171 samples received in the lab, 17 grew pneumococci identified by standard methods. Fourteen of them were confirmed by multiplex PCR. Maximum recruitment was observed during the months of January and February (36.4%, 28.6%). The average age of affected subjects was 21 months. The common clinical presentation was pneumonia (42.8%). Two isolates belonging to the 19F and 19B serotypes were resistant to penicillin (on Etest). The observed serotype distribution was 6B and 19F (2 each), and 1, 2, 6A, 9V, 10A, 14, 15A, 19B, 21, 35F (1 each). The overall fatality rate was 14.3% (n=2); the S. pneumoniae isolates from these two patients belonged to the non-vaccine serotype 19B and vaccine serotype 19F and demonstrated in vitro resistance to penicillin and erythromycin.
Conclusion
Our study demonstrates the presence of invasive pneumococcal disease among under-5-year-old children in India caused by serotypes that are in large part covered by available pneumococcal vaccines.
Keywords
Non-vaccine serotype,
Streptococcus pneumoniae,
vaccine coverage,
drug sensitivity,
India
Publication Date
June, 2017
DOI
10.18683/germs.2017.1112
Citation Information
Savitha Nagaraj, Bhuvanesh Kalal, Anand Manoharan and Anita Shet. "Streptococcus pneumoniae serotype prevalence and antibiotic resistance among young children with invasive pneumococcal disease: experience from a tertiary care center in South India"
Germs
Vol. 7 Iss. 2 (2017) p. 78 - 85
Available at: http://works.bepress.com/bhuvanesh-sukhlal-kalal/8/